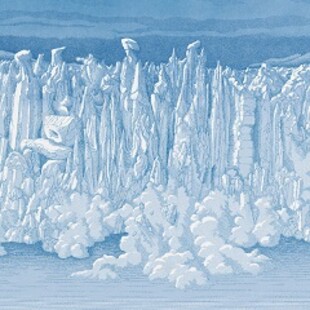 Thrill Jockey have an innate talent as a label for hoovering up interesting and arresting work and bringing it to wider public consumption.
Wrekmeister Harmonies is a chap called JR Robinson who has previously released field recordings from various locations around the States along with a cast of characters that included the Jesus Lizard's David Yow. That was back in 2009, but 2013's You've Always Meant So Much To Me comes following a 2012 performance at the Museum of Contemporary Art in Chicago with an ensemble that would probably do well as a touring concern. Coming together later last year, the moribund recording includes such black metal and ambient luminaries as Jef Whitehead of Leviathan, Sanford Parker and Andrew Markuszewski of Nachmystium, Jamie Fennelly aka Mind Over Mirrors, Mark Solotroff of Anatomy of Habit, Bruce Lamont of Yakuza, and more besides.
Over 38 minutes, this orchestra of sound manipulators and composers of the most off-the-radar music it's probably possible to get create what laymen would term a sound collage, but those used to such fripperies would call a collaboration. Half-touches of sensitive fretboards, piercing drones and underlying waves of droning feedback and keys mean it's an intense, but non-threatening experience to begin with. Written to accompany a film Robinson shot in decimated Detroit locations, the desert of Joshua Tree and decaying forests of Tasmania, the imagery you can't see comes to you as the piece progresses. You can imagine slow pans of burnt-out municipal buildings chiming with the bleak and unforgiving nature of the desert, creating a beautiful, yet ever so sad image overall.
The beauty of YAMSMTM is that the individual members are not given credit for who has made which contribution, rather it's an amalgamation of all those performers that melds together really well. As it moves towards the end, a crushing metallic sound comes in which will interest those with more of a heavy interest in the blackened elements involved. It's all phasers and an almost sludge-esque doom riff that rings with the noise contributors underpinning it with whistling and maxed-out treble effects and it sounds truly crushing.
Winding down for the final ten minutes it's clear that this was based on a live performance, you can almost hear the audience breathing out a sigh of relief as it closes after such euphoric highs.