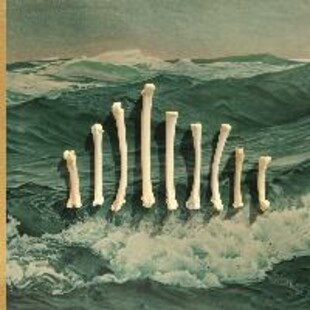 Imagine crashing on a distant planet, your crew are all dead.
Your radio is badly damaged but you manage to eke some life out of it. You turn the knobs for days but nothing happens, just endless static. Then one day while half-heartedly trying again, you encounter some distant drums, almost tribal in nature and some moaning through the fug of crackle and fizz.
This is not unlike tuning into Drama Class by People of the North, the opening track from their new effort Sub Contra. Weirdly, you'll find that POTN are actually two members of Oneida, namely Kid Millions (drums) and Bobby Matador (keyboard, synth, vocals) although other members turn up to add to the nowheresville sound they are seeking to create. Having been in existence since 2003, they've released now three albums since 2010 and frankly, I might have to seek out further material. The shimmering buzz created by what I presume is a broken organ on this lengthy opener is haunting and creates a low-level hum that allows for the drummer to explore his wildest percussive desires all over.
Coal Baron sounds like keyboard botherers Zoltan and Zombi on a downer, their space craft knocked way off course by huge collisions, no longer epic but wistful and lost in the cold, dark expanse of space. You can imagine a smashed craft turning through the void on this one, a solitary red light blinking out a signal to nobody. In space noone can hear you scream, especially if there's nobody else there. The solitary nature of POTN's music has a haunting effect, conjuring up visions of lonely walks at dawn into frost-covered fields or descending a mountain in total silence. This is music to either play in the background or turn up to the full and become immersed in for sure.
The shortest track Sub Contra 1 is three minutes of threatening synth buzzing, with drums almost mumbling behind the sheet of noise, can drums murmur? People of the North are making them so, so they must be able to, fascinating.
This and it's follow-up Sun Contra 2 are apparently based on poet Louise Bogan's work of the same name which reads: "Build there some thick chord of wonder/Then, for every passion's sake/beat upon it till it break."
I'm not sure if this is achieved or not, but the feeling of something trying to break through is palpable and seems to be a great metaphor for the whole release. It's of particular relevance for the closing track Osage Orange, which is more tense, like a beast that takes uncertain and lolloping steps towards you as you can only look on, but it seems to take forever.
sub Contra should be your first port of call if you've never appreciated ambience on an epic scale before, it could be the record to turn you.