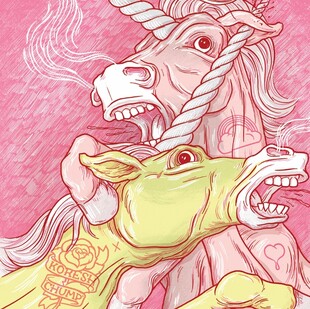 The band Beaten Back To Pure once had an album called The Last Refuge of the Sons of Bitches and you'd be well-advised to check it out. However that title could easily be Koresh's calling card, the one they leave in urine-puddled phone boxes and hope people are desperate enough to call.
To enter into a Koresh release unprepared is like walking into Netto covered in paper cuts and expecting not to catch something. See, Koresh are a special sort of band, or should I refer to them as a 'group'? Their musical machinations are more gang-like than considered and more caveman than erudite social animal.
If you've ever caught Koresh attempting to play live, you might have been impressed by their ability to stand up, start songs together and even on occasion, thank the crowd.
For the main part they are a sorry, pitiful group of 'musicians' too drunk to know what the planks hanging round their necks and in their hands are and so panic, in time, to often patronising audience applause, if they remember to stop at some point. I kid of course, but you get the general aesthetic.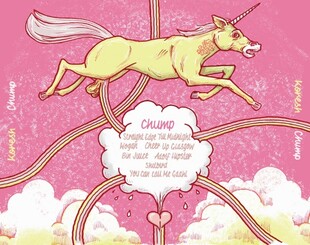 Chump is their newly-released EP and it flops out the starting gate like a three-legged whippet with a gammy eye and a false sense of accomplishment. For those who like their sludge rough and ready, get ready to hit that 'like' button now, firmly from the Iron Monkey school of thuggery, Koresh's music paints in piss and blood splatter that would put Jackson Pollock to shame.
From the opening attack of Straight Edge Until Midnight and it's immediate follower Wogan you can garner what is going to happen here. It's all screams and grit-gargling stuff with guitars set to sandpaper-rough and tuned to Zzzzz.
As with most sludge-esque material, it's hard to garner what lyrics are on offer, but I gather a flight to Glasgow for a gig other people have spoken about in hushed tone to me since might be to blame for the shit-smeared Cheer Up Glasgow. The famous munchie-box, a Caledonian delicacy was apparently consumed in vast proportions during this trip, meaning the metric tonne of kebab meat, chicken wings and hectalitres of beer must have made the return trip to the capital fun for other commuters. Elsewhere the screamed coda of simply Fuck off during Shitbird become beyond silly but I suspect that's Koresh's intention.
The aural equivalent of someone careering into the street from a city centre Wetherspoons, sloshing warm cider over a passing couple out on their first date. Buy it, if only to keep them in drink, stopping now might just be the worst thing for them. Hair of the dog? More like wig of the Wogan, it's going to take some doing. My head hurts.
Ordering and label information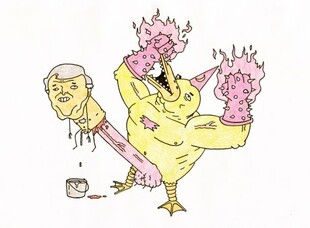 'Chump' by Koresh is WHR024 / WHR011
Tracklist:
1. Straight Edge Till Midnight 01:29
2. Wogan 01:56
3. Cheer Up Glasgow 01:57
4. Bin Juice 01:40
5. Adolph Hipster 01:40
6. Shitbird 02:20
7. You Can Call Me Gaahl 01:52
Recorded by John Hannon at No Recording Studio - October 2nd & 3rd 2012. Front & Rear Artwork by Luke Drozd. Wizard Duck Illustration by Ross Butter. Band photo by Jack Sheen.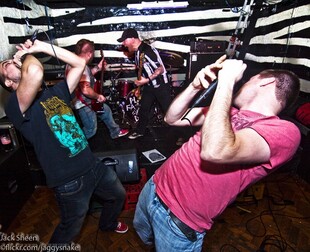 Koresh are:
McGhee - Bass
Morrell - Drums
Paul - Vocals
Rich - Guitar
Don - Vocals
This is a joint release between Withered Hand (Blood Island Raiders, Dead Existence, Pombagira) and Witch Hunter. Limited to 300 copies on a jewel case CD, also available as a pay-what-you-want download through Bandcamp, and the traditional digital outlets such as iTunes, Spotify and Amazon.
Buy the EP on CD here, order a frankly amazing CD + T-shirt deal here, or listen to/download and buy it from here.
This has been a 9hz production, in association with Witch Hunter Records and Withered Hand Records.