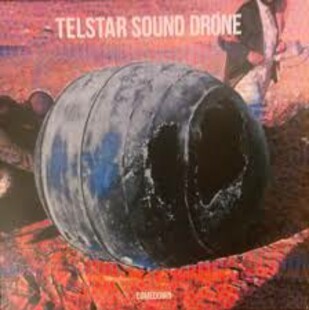 We must all know what it must be like playing in a band like Baby Woodrose - with a sound akin to the doped, spaced inspiration of very early Monster Magnet, the days playing European rock festivals, approving some Malleus artwork for your next album or touring with the likes of Kadavar must drag as you yearn to be even more psychedelic and lose your hard rocking core. Yep, I'm sure we can all sympathise. As such, The Telstar Sound Drone is a very understandable side project borne of such musical frustration, featuring Mads Saaby and Hans Beck from the 'rose.
The ominous and foreboding "D" word in the band name needs addressing immediately, standing there cockily, insolently and I'm sure to many, worryingly, like a health warning on a pack of hot chili peppers - it may serve as a welcome challenge to some but will likely put many more off before even giving it a chance. And they'd be wrong to, as this is pure psychedelia, just another case of a misleading genre title in a band name - Doom aren't strictly doom, Sludge Nation weren't at all sludge, and lets not even go into Eagles of Death Metal.
The sound is familiar - openly in awe to the US West coast 60s/70s drug culture, an ode of open invitation to join them in retrospective reflection, a chance to regress in mind and soul. Thankfully, between the acid jams that litter the album, they maintain a structure, giving it shape and actual songs, stopping this from becoming one big self-indulgent wig-out mess. There's distinction between each song - Satellited being a good example, a dirty rumbling bass line that GVSB would be proud of casting a darker shadow than elsewhere, like a black cloud. There's favourable reminders of the brilliance of Bristol's The Heads here and abouts.
It's a bit too generic to be really good - the likes of Colour Haze and many on their Elektrohasch label frequently show that modern psychedelic rock can be done with a fresh and innovative slant - but it is an enjoyable listen. People who like the theory of Acid Mothers Temple and the (insert whatever suffix they've got nowadays), can dig them live, but struggle with a lot of the recorded ouput, could do worse than check in here.