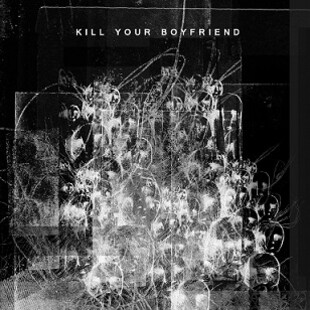 This is like a bolt from nowhere, Italy's Kill Your Boyfriend are all about snare, jangles and a low-fi, driving sense of self-accomplishment. Their self-titled album comes on the back of some success with their earlier material and sounds for all the world that they recorded it in one afternoon, in one take.
On a post punk tip some of the time, they adopt an almost Cocteau Twins vibe at others, meaning lots of feedback and delay-drenched vocals that sound as if they are recorded as the singer is waking up on a couch after a heavy session on the Nytol.
Sounds of static jar you at times, like coming to the end of a dodgy VHS recording, experiencing a few seconds of snow on screen then having a badly-dubbed Joy Division bootleg recorded in someone's duffle coat pocket played at you at full volume. The result of this haphazard recording style and overall slacker style is a curious hall of mirrors effect. Does that drum machine sound organic at times or is it just the rest of it sounds so warped you can't tell any more?
I once left a tape of some waltzer music in a window for an entire summer. Playing it after this resulted in some of the most terrifying music I've ever heard and this is frankly no different. It's like an indie band had their recordings buried for a bit then asked Sonic Youth to dig them up and master them without listening to them.
Kill Your Boyfriend therefore sound incredible to these ears, truly original and without any pretension at all, they simply seem to be making music for themselves and happen to have had some success with it. The promo that arrived with this album (which looks great by the way) has a picture of them all with sunglasses on, dressed in black round a table. One of them has spiky hair, one looks like your fella out of Nickelback and the other looks like a squashed Lou Reed. Do you need any more encouragement to listen to this?