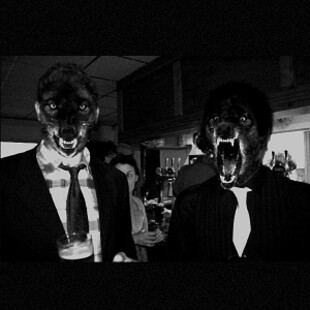 The curiously named Captain Gregs, Wrapped in Legs eight track LP from Derby duo Biscuit Mouth is a relentless and angular strung out art blues fest.
It's off kilter and conjures up images of DC post-hardcore (done quite well), with similar rhythm and sound to 'Rapeman' era Albini mixed with the fucked up blues of 'The Birthday Party' or someone like that. A lot of the aesthetic cues are from that late 80s/ early 90s post hardcore US art school thing, so even if they aren't exactly covering new territory and it kinda has been done to death in some quarters- its music I love so I'm inclined to like 'Biscuit Mouth'.
They have an enormously big sound bearing in mind it's just two people with home made / improvised instruments. I especially like the bigger, more expansive more driving instrumental bits on this release as opposed to the stripped back blues, not really feeling the a capella interludes - I think this could be something to do with the impression I get that the vocalist passed with flying colours from the Ian Svenonius School of affected vocals. Prefer it when the drummer/ also the singer sings in Derby as opposed to faux rust-belt.
The standout tracks for me are Hey Pinko and the more upbeat I've Not Cut This Loose In Years, Captain Gregs, Wrapped in Legs is an enjoyable listen and well worth a space on a playlist with the bands that influence them.