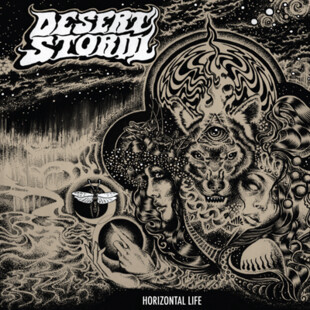 In terms of young bands out there in the UK who embrace the aesthetics of the term 'Do It Yourself', you'd be hard pushed to find a group who embody this mantra quite more passionately than Oxford bruise-makers and booty-shakers Desert Storm.
Not content with touring Britain up and down, playing the local pubs and dive bars in their home town on an almost weekly basis and running their own promotions business (Buried In Smoke Promos), the bluesy five-piece have learnt that the only way to really improve themselves is to invite the big boys out to play. By personally organising tours showcasing the likes of genre big-hitters Karma to Burn, Honky and Orange Goblin to the masses and gluing themselves firmly into the tour support slot, they've gained valuable experience and a measurable maturity beyond their years in a short space of time. Their debut album Forked Tongues was a booze-drenched, heavy-riffing, good-time rock n' roll record which veered between crushing metal and backroom acoustic blues, but lacked both the consistency and fluidity to hit home as an instant classic.
The sophomore effort Horizontal Life picks up where Forked Tongues left off, but pushes the band into a fresher, more gigantic sound and stamps a size-10 in the face of any substandard filler.
The lessons this mid-twenties rabble have clearly learned on the road are ripped wide open and laid bare on this new 12-track long-player. Lead guitarist Chris White has leapt forward into the role of band leader with apparent ease; his sizzling leads, vibrant solos and crystal clear motifs will rattle around your ears for hours on the like of the show-stopping Shadow of an Eagle and the swaggering No Slave to Master.
Throughout Horizontal Life you can't help but feel that you've heard all the riffs and grooves elsewhere before, and whilst you probably have, it doesn't prevent the likes of the Zeppelin-esque Astral Planes nor the Metallica-meets-COC crunch of Hofmann from simply sounding goddamn badass. I've said on many occasions that there simply aren't enough bands out there paying little/no attention to genre trends or trying to please the doom-driven elitists. Desert Storm's style is simply one of: Bang your head, have a beer, hang out and have fucking FUN!
It's not just White who's stepped up his game either. Duffel-coat-clad, foot-stomping frontman Matt Ryan's vocals and lyrics are a huge improvement on the Forked Tongues material and his whiskey-soaked drawl rains authority down on the punishing Mr. Strongbatch, the worldly Gaia and the glorious Clutch-isms of opener Word to the Wise Man.
If Matt Pike were to suffer complications after the birth of the beer-fuelled child that his sizable midriff is surely carrying, then Ryan would be a shoe-in replacement behind the mic in High On Fire. It does help that he's supported by a rhythm section who are not only tighter than Deborah Meaden's chequebook perforations and perfectly in touch with each other's live performance, but identical twins to boot! Ryan Cole (rhythm guitar) and Elliot Cole (drums), plus bassist Chris Benoist are a formidable combination and the likes of the towering, metallic inferno Enslaved in the Icy Tundra and the BLS-freight train assault of closer Scorpion just wouldn't be possible without their flawless basslines and pinpoint percussive mauling.
If there's one criticism of Desert Storm's earlier material, it's that most of it is just too close towards being pilfered off-cuts from the dustbin outside Clutch's jam room, but yet within the rock/metal template, 'Horizontal Life' sets about covering a hell of a lot of musical ground. The sprawling 10-minute long Titan is more ambitious than anything the band have attempted to date with its brooding Celtic Frost vs High On Fire introduction which opens out into a fascinating esoteric landscape, not unlike Houses of the Holy-era Led Zep, or the modern stoner mirages cast by the likes of Yawning Man or Astra. Gaia is a gentle, harmonic-pinching lullaby; Elliot Cole's gentle drum beats soothing the scars cut into your riff-bedraggled ears.
But on the flip-side, the djenty Shenzhen is so barbaric, jagged and muscularly deranged that you get the feeling producer Jimmy 'Evil' Hetherington must have put too much Meshuggah in the coffees on that morning of recording. Speaking of the mixing and mastering job, both Hetherington, and indeed engineering yoda Billy Anderson, have done an awesome job here – the band sound big enough to crumble the walls of arenas, never mind The Wheatsheaf pub in Oxford.
Neatly housed in some of the sexiest psychedelic artwork you're likely to see this year, courtesy of experienced illustrator Chris Hitchman, this is, for me, one of the standout releases of the year so far. Only time will tell if it'll elevate Desert Storm out of their own horizontal lives to ever greater stages and shows across Europe, but I hope that it does. Whatever happens, it'll be a DIY-job that gets them to wherever they want to be.