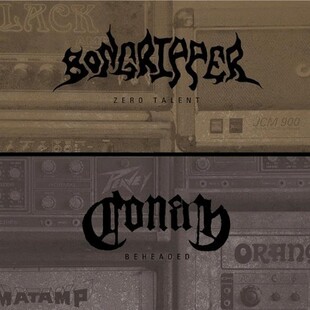 This has been a highly anticipated release, two bands at different stages in their careers coming together to make one hell of an impression on the expectant masses.
Conan are a three-piece hailing from Liverpool. I've watched them carefully over their fledging career, witnessing one of their first shows supporting Charger at The Star & Garter in Manchester, back in July 2010, and you could tell back then that they were going to deliver some crushing pieces of doom that would make your ears bleed.
With Beheaded they deliver a spine crushing 17 minutes of pure doom. Beginning with a drum pattern that is metronomic in delivery, the downtuned guitars and bass kick in and thrust their sound into your face, the cacophony of noise leave you begging for more. The low end of the bass fits perfectly in sync with the drums and makes for a stunning performance. The vocal shriek of Jon Davis, pierces through your skin and drives into your pores, affecting your mind to such an extent, that it takes over your body, your head nodding in perfect time to the beat of the drum.
It is hard to believe that they are still only a relatively young band, in terms of recordings and live performances, because they are such a well-oiled machine. The audible pleasure that they bring is exhilarating and the fans that turn up on the upcoming tour will do well to leave that gig with their eardrums intact, as they will produce a physical assault on your body, so be prepared for pain and misery, but in a delectable doom laden fashion.
Bongripper have been with us for some time now, and are still revered for their somewhat stunning Satan Worshiping Doom epic masterpiece, yet they still seem to remain unknown, which is somewhat unbelievable, considering that they produce music of such high quality.
Their contribution to this split is a nine-minute riff-tastic monster called Zero Talent, an ironic title for those who have heard them before. The slow, intense, down turned riffs on offer here, bring a fascinating insight into the minds of the four piece from Chicago. With this track, they have added another instrumental behemoth to their already bulging back catalogue of noise.
The slow build up really doesn't prepare your senses for the assault that is about to happen. It explodes after about a minute, like a firework going off inside your house, it shakes your very foundations as the hellish and eerie sounds slowly build up and then stop!!!!! Before the atmospheric noise draws you back in again, the raw and dirty sounds building up the tension to epic proportions, leading you forwards to the top of a cliff and then head butting you over the edge, leaving you clambering for more. The stunning and spine chilling drum work near the end of this masterpiece drives the song faster and faster, building it up to head crushing crescendo.
Then it just disappears, fades away, your eardrums not knowing what to do next and whatever they listen to next will pale into insignificance when compared to the last 27 mins of sheer doom pleasure that both these bands have laid down before you. Go forth and seek this title out and then to the gigs that will soon be upon us, I'm sure that you won't be disappointed with the outcome.