Stubb have been a ninehertz favourite since this website began, as good as this country gets in perfectly blending 70's hard rock and psychedelia. Always entertaining live, but never prolific in terms of output, Stubb have finally seemed to get on a roll, with the recent release of the Under a Spell vinyl following last year's debut self titled album. About time we caught up with main man Jack Dickinson...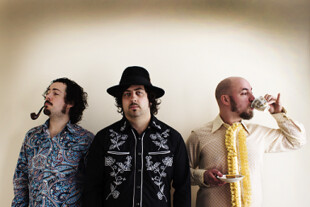 You've been around for a good while now, but haven't had a settled line up. Is that a frustration?
"It has been a frustration in the past, getting a line up that really clicks and then having to start again from scratch can be testing but I think it's kept me on my toes. When the initial lineup of Stubb broke up I was thinking to completely shelve the band and start something new, I dabbled in that a little with Stone Turner but I had this feeling of unfinished business with Stubb, I knew that the songs we had got together were strong enough to do more with so I decided to make it happen. I'd seen Pete and Chris play with Trippy Wicked and knew they had something special, so I approached them about joining Stubb and thankfully they liked the tracks."
Is the current line up now settled?
"The line up we have now is still quite fresh, Chris left his position as drummer and Pete has stayed put on the bass. We now have Tom Fyfe on the drums who used to play in the band Olde Crone and it's sounding great, we played our first gig with Fyfe at The Borderline supporting Sungrazer and The Machine so that was a great way to break ourselves in.
We've been rehearsing a fair bit and there's a lot of jamming going on which is bringing out a whole new side that I think will be quite explosive when we get it out there. One thing to make clear is that Chris decided to leave under completely non dramatic circumstances and he's still very involved with the label and the band, like a 4th member really, which is awesome."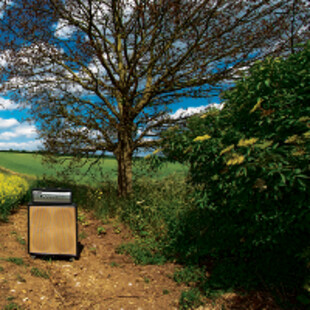 The album was well received, has it opened up more opportunities for the band?
"Having the album out there has opened up avenues for us, there's more opportunity to go out and play gigs without having to play every little venue in London all the time, the more people hear your music the more demand there is and it's an amazing thing when you can travel to places like Germany and have people knowing the songs. We just put out a 7" on blue vinyl through the German label Stone Stallion Rex, it was great of them to release that and I'm sure it helps a label in their decision to know that the album is already out there and being well received."
What's in the immediate future for Stubb?
"Rehearsing as much as we can in between working our day jobs is pretty key, we've got most of the current songs that we play dialed but we're forming a lot of new songs off the back of jamming and I have a bunch of demos that we'll have to fine tune into new songs as well. So a lot of time at the moment is being spent on the writing and rehearsing side of things, I think it's important to do that, I don't want to keep playing the same sets over and over though I see the importance of playing tracks people love, it's important to introduce some fresh material and not leave a huge gap between recordings though. The next gig we have is June so it's a bit of a gap without live action but I hate to overplay London and when we do our next gig I want to get some new songs in the set."
What are your longer term ambitions?
"We'd like to get out there and play to as many people as we can, so more touring for sure, keep being productive on the recorded side of things and take it as far as we can. Sometimes I have moments where I think it'll only ever be a sideline activity to work but then I can slowly see things happening, I'd never have imagined when I was younger that I'd have music released on vinyl, get a song on a Metal Hammer cover CD and so on but they have all happened and I'm quite a firm believer that if you keep your heart set on a goal then you'll get there eventually. So longer term is just to keep on seeing how far we can take it, the sky is the limit really."
How does the band, and your aim for it, differ from when you first started?
"I think the band has stayed pretty close to the original idea which was to just be a very good heavy rock band, the bands I like from the 60's, 70's and more recently are mostly the ones who don't throw themselves into a rut. We also had an aim at the start for people to be able to move to the music, however they feel the need whether it be banging their head, shaking their hips or losing their shit completely it's all about enjoying the sound."
Have you got plans for a new album?
"Yes! I've been writing a lot of new tracks at home sitting with my guitar and now I'm starting to get those into demo form with the help of Chris (Trippy Wicked) so I can take them along to rehearsals, refine them with the input of Pete and Fyfe and make them into album tracks. We have one new track already from taking a riff I had and jamming it out, that ones called Devils Brew at the moment. We're planning to work with Tony Reed again on this album but this time he may also be doing the recording side of things if it works out. I'm aiming to get a whole load of ideas into this new record, I'm excited about it, I want to really push myself with guitar playing and vocals and it'll be great to see what we can all do together as a unit. I've been listening to a lot of early Santana, and I've started writing a track that has that vibe to it, I can't wait to see if we can add some congas, Hammond and percussion into what we do."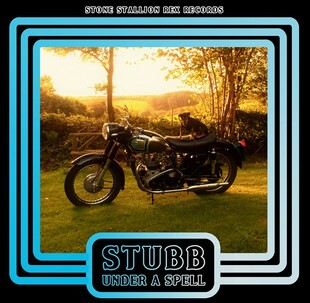 You have a great mix of 70's influences - but which are most important to your sound?
"There's so many influences that go into what I'm writing and then those get filtered through the other members of the band who add their own personality and influences into the mix. Personally I'm a real fan of the variety of song writing in some of those 70's albums, there's no fear of putting heavy rock songs, folk songs, ballads etc all on the same album. A really good example of that is on the Dust albums, real heavy riff based songs right next to ballads with string sections, and why the hell not, if you can do it and put it all together in one package then that's a great thing. I like melody and hooks as well as being heavy and loud, so I listen to Black Sabbath and Thin Lizzy and Deep Purple but I also listen to Elton John, Santana and Fleetwood Mac, it'll all good music. I must say I do listen to modern music as well but I guess a lot of it is coming from those 70's roots whether it be doom, rock or whatever. I love the days of the really great guitar players like Hendrix, Richie Blackmore, Rory Gallagher, Peter Green, Santana and countless others and I like to try and add my own style to things and push myself so I can hopefully in a tiny way maybe influence someone to pick up a guitar."
What inspires your lyrics?
"I've written some songs about the usual things, girls treating you badly, life being tough and quite a lot of it is influenced by the earth around us, nature, travelling and seeing new things. If you read some of the lyrics they might mean something different to me than you would think, or sometimes they are just to get a general vibe across like a feeling of escape or freedom. Riding a horse through the crimson sky would be a pretty free feeling I'd say."
You personally dabble in other stylisticly similar art forms - with Liquor Queen and Mindzap - how do you find the time?
"Making time isn't too hard, there's plenty of evenings where I'm sitting at home and when I get motivated to do something I usually get really into it. So the idea of Liquor Queen is to make some handmade items like leather wallets and some jewellery to start with but gradually add more items. I'm planning to do some one off things like denim jackets and spray painted motorbike helmets when I get the time too. I like projects, they keep life interesting, I'm also working on a custom scratchplate for Lianna Davies the bass player from Turbowolf, if that goes well I'll make a few more!
Mindzap has been quiet lately as I used to have more time for it but I'll be doing some projections at this year's Desertfest, so it'll be back with a bang! I also edited the promo for Desertfest and hopefully have a music video in the pipeline for a really cool band soon."
What's been your favourite gig?
"That one's tricky to answer, every gig has it's unique parts that stand out. I really enjoyed playing last years Desertfest in London, the timing was great as we were touring with Trippy Wicked and Stone Axe so we all played on the same stage to a full house. European gigs have been very good to us too, We've had a great time in Germany especially and we'll be getting to more countries soon to get an idea of what they are all about."