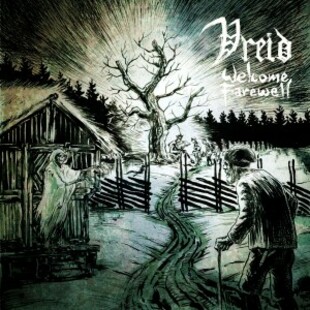 Vreid have been going for years, but I first encountered them at last year's always-excellent Damnation Festival in Leeds. Vreid obviously have their roots in black metal, being formerly Windir until 2004 when their vocalist Valfar sadly passed away, but play what most would term 'black and roll' so favoured by latter-day Darkthrone and Volcano-era Satyricon. Welcome Farewell is their sixth release and sounds frankly, amazing.
Opener The Ramble is worth hearing purely for it's epic lyrics and fist-in-the-air glory. they occupy an almost accessible path between Motorhead and Darkthrone, that sense of frost-bitten and desolate black metal, but with a knowing and head-nodding rock sound there too. As the album stretches out its blackened limbs before you, the pure and unadulterated groove reveals itself. Vocals are reminiscent of most black metal, particularly Norwegian-sounding, think Atilla from Mayhem, Satyr from Satryricon, but not quite the Popeye-esque silliness of Immortal.
It does stray into classic rock and metal at times too, witness the rollicking and joyous start to The Devil's Hand which has flashes of Metallica in there too. Vreid are a unique proposition, sounding both evil and somehow fun at the same time. If there's such a thing as a black metal party, Vreid would no doubt be the house band, stomping on black balloons and upending the grim buffet snacks. Live, they all wear black shirts and leather wristbands, bowing in time to the infectious groove. I'd advise seeing them live but Welcome Farewell is a great introduction to their music. I for one will be dipping into their pretty vast back catalogue now, they even have a concept album based on war poetry. I Krig (At War), has lyrics based on poems from 1946 by Gunnar Reiss-Andersen, a member of the Norwegian resistance fighters during WWII.
If you've ever written black metal off as dour, too serious or just plain silly then Vried might be the band to change your mind. They manage the balance quite well, never straying into stupid territory or appearing too straight-laced, and just listen to that groove.