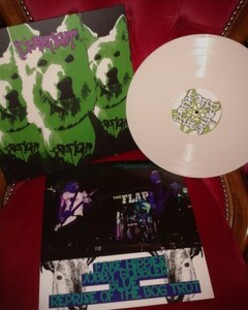 This split LP starts with one of the best samples I've heard in a while. I won't give it away, just take a listen. However, it's not all congratulatory, this is the final release from Dopefight who've decided to call it a day (very sad). But this is a fitting epitaph for Dopefight at least, it shows their molasses-thick style off nicely. The first track mimics Jefferson Airplane's Don't You Want Somebody To Love? among the metallic sludge happening all round it, which is pretty impressive.
Jobby Gobbler which is pretty much on par with the late great Bumsnogger as most comedy name in sludge ever, is a more raging slab, going for broke rather than slowing it down. However Blue is almost a tribute to the Sabbath classic Planet Caravan all acoustics and gentle percussion with almost a Native American twist. This wouldn't be out of place on something like Deadwood or a stakeout episode of The Wire. Very cool and shows you sludge bands aren't all beer-can crushing dickwads. This is further enhanced by the closing track, is this a new genre, sensitive sludge?
Lex Rhino from Germany start their side of the record with a more operatic and serious doom sound. The vocals are deep and almost cod-serious. Lyrics tell a story of cold winds, blood-sucking and terror. The music is neither heavy nor intrusive and all the focus is on the vocals and their Lovecraft-esque subjects. Over their side of the vinyl, Lex Rhino ply a classic rock sound with this almost ridiculous vocal style taking over. Sisters of Doom is sadly as scary as toast falling the wrong way up, no matter how much hammer horror is forced into the singers voice. It's all a bit Halloween party, fake fangs, dried fake blood and you can see the mask's elastic strings. Where King Diamond knows he is frankly ridiculous and plays up to this fact, I'm a little concerned Lex Rhino are taking themselves seriously. This is far too weak sound wise to have an impact sonicly and the vocals get ever more wearisome as it wears on. Do your best vampire impression over some old 80s hair metal and you have an approximation. A bit disappointing considering the invention and class on the other side.