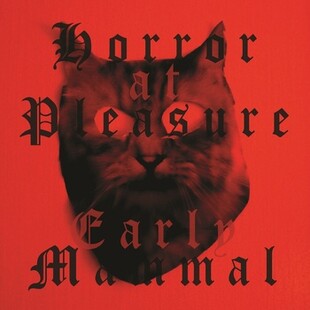 Early Mammal are a delightful little band from Camberwell South London and have been up and running as fuzzy, psych, stoner-ish band since February 2012. Their latest release on Devouter Records is aptly named Horror at Pleasure.
The opening track from this sonic blizzard is Right Hand, a trippy, miserable feedback-twinged instrumental piece that introduces the next stomper; Final Witch.
This track is where we hear the San Francisco influenced freak-out jams which sound like one of Captain Beefheart's wet dreams or Hunter S Thompson's acid baths. The vocals screech in with slightly less conviction than hoped but there again, what do you hope for in this type of music?
To call these boys 'stoner' is like calling The Carpenters 'doom'. They have the gloom down but the stomping riffs? Not so much. Detuning guitars only works if you are running a massive amplifier behind it.
Demon or Saint comes in next and has strong hints of early Monster Magnet, slowed down to try to regain the 'stoner' tag, the guitar sound is not as strong as all the pot heads would like engulf themselves in. Psych rock is more these guys, pulling in all the traits of the best bands from the late 60's and injecting it with a Monster Magnet jam? Nice.
Coming Back is the next track to breeze its way in, less dirt to this one, jangly guitars and swaying bass lines chill the album out a bit, pot heads rejoice! This sounds like Kyuss in their quieter moments, nicely played guitars yet only 2:42 minutes long. Could have had more of this yet the best things are all in small packages...
The next track, To Find Me Gone, begins with a synth-style introduction but then falls into a psych-rock by numbers style affair. It appears that the album may plateau here but perseverance with the music is always key. The main draw with this track is the catchy guitar riff; it will stick in your brain like a nail gun.
Kyuss influences are back for the next track, Money Shot. I like the intro to this one, but then again, who wouldn't? This is where the apparent 'stoner' tag comes from, rambling lyrics over a good riff with little balls, like meat without the potatoes. Pretty basic stuff yet I'm pleased to say there is no mention of the desert in the lyrics... thankfully.
There may be a hidden message in the next song, Checking The Bullshitter's Queen...quite what that means is beyond me, perhaps the hard copies of the album will shed some light... When I listened to the opening few bars of this one, I imagined driving on the motorway with a passenger at around 80mph and what would happened if the driver were suddenly shot in the temple... how the fuck would you react?
Food for thought next time you're faced with the M6. Same trippy guitars with driving drums and monotonous bass, creepy organ in the back...another San Fran freak-in jam.
Next up is another brief instrumental entitled, Going Out; I'd love to hear these guys do a concept album, plenty of this stuff included, nice and minimal with a strange sample and middle-eastern guitar lines. There are hints of Pelican in this too, short but oh so sweet.
Monster Magnet influences come back in for Resurrection Man, this track is the longest on the album, plenty of the same type as previously heard on the earlier tracks. This has slightly more guts in the louder parts of the chorus but the riff continues to have slightly less going for it, if only they had a few stacks of amplifiers behind them then this would be my cup of tea and possibly yours. Ideal acid trip stuff here for you...vocals to make you shit your pants with a decent Sabbath build up and solo.
The Final Curtain is another instrumental where the band fully let loose on the old frequency settings, louder and slightly more creepy, aptly named, Uncle Scary's Left Hand...odd name, odd track. There are plenty of odd guitar lines along with sweeping synth-scapes and feedback to freak you out.
Another short one to finish the album, but when you've had a terrifying ordeal, ergo your driver gets shot in the head; you'd probably need a short stiff drink to bring you back down right?