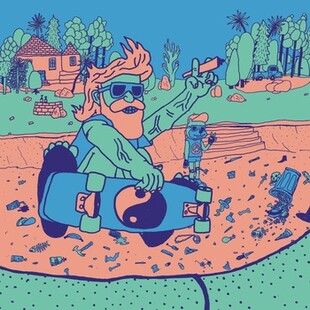 Eyup, this is my first review for 9hz, bear with me.
Cowtown are a Leeds based three-piece. Their third album, Dudes vs. Bad Dudes, is full of fuzzy guitar riffs, reverb-laden poppy vocals, impressive drumming and blasts of synth; with a strong party vibe running throughout.
Although I have limited reference points for post punk/new wave/indie pop, you can hear bits of bands like Gang Of Four, Pere Ubu and even Talking Heads in their music.Yet the upbeat and fun feel to their sound makes it a refreshing listen.
The middle tracks of the record are my highlights. Animals, which features keyboard player Hilary on lead vocals, sets the hip-wiggling tone for the remainder of the album. By the time synth-driven Monotone Face kicks in, you'll be wishin' that you were in the back room of a pub somewhere with a few pints of cider in your belly getting your groove on.
Nightbeats continues in a similar fashion. If Cowtown were the sort of band that released singles, this would be one of them. It's so accessible it wouldn't sound out of place on a nondescript indie rock club night that frequent major cities across the country. Please, don't let that put you off though, it's cracking. Ski School contains some ace riffs that add to the party and fun feels which I pick up on the album. It makes me want to go and see them live. There is a couple of tracks which are decent but not particularly memorable, however, the tracks previously mentioned will keep me coming back for more.
From Stand's True Romance which rocked and challenged my pissed off teenage years, through The Jesus Years and Crash Of Rhino's incredible recent releases, The Audacious Art Experiment has constantly released some compelling and varied independent music. Dudes vs. Bad Dudes continues this very nicely.