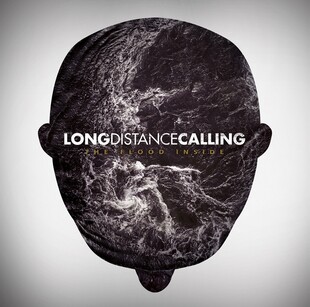 Long Distance Calling are a proggy juggernaut from Germany. Far from putting me off, this actually intrigued me. Having shed a vocalist after several albums, The Flood Inside sees them start a new era with fresh microphone botherer Marsen, who is apparently in the bizarrely-named Pigeon Toe (do pigeons have toes?).
Ornithological anatomy aside, the band do sound distinctly European, both in Marsen's nasal, yet strong delivery and the tropes the band fall into. There's post rock influence here for sure, but there's also metal-esque prog influences at work here too. Think Katatonia, Porcupine Tree or even, gulp, Dream Theater. For those who can't stand extended guitar solos or self-indulgent epics, it's possibly best to leave the room now as it's full of musical frippery and experimentation.
Being this prog can have its downsides, but LDC manage to avoid the cheese by forging ahead rather than wallowing in their own egos. Solos, although still present, are kept thankfully short (there's a time and a place right?) and the gothic touch of Katatonia is probably a better reference point. Songs like Ductus are underpinned by some excellent and subtle keyboard work and gives it a calming constrast to the full-on ecstatic sections where the band tear up the studio.
The band's press blurb mentions a love for Faith No More, indeed on Tell The End they do approach this kind of sound. Marsen's vocals take on the soaring aspect we're used to from Patton and co, but they retain a much more serious and studied approach than the cheeky funksters, which is actually a plus in some ways. There's a lot to attract both prog fans and casual listeners here, enough of the exploration of different sounds to please the audiophile and the average heavy metal fan alike.
This should be one to look into if you like a bit of modern prog with a constantly shifting line of approach. They are in the country this week, so why not check them out?