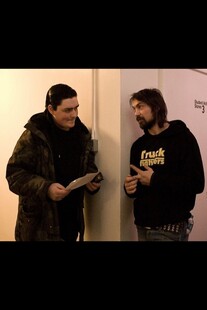 Back in January 2011, Queens of the Stone Age posted a video promoting a band named Truckfighters, I clicked and listened. The video itself was a trailer for a Fuzzomentry that documents a band that work hard, tour lots and play some pretty barbaric riffs.
As far as I could see back then, there was no sign of any Truckfighters material for download or any actual physical copies to listen to; not only that but the Fuzzomentry was a long way off being released.
I must have watched that trailer at least 100 times before I got my hands on everything I they'd ever done. When I did score a few Truckfighters albums, I treasured them and almost wore out my copy of Gravity X, there had been signs of them playing in the UK but that was quite a few years back.
It came about that in 2012, Truckfighters had been asked to play Desert Fest in London, and I unfortunately couldn't manage to get to it despite trying my damndest. On March 6th 2013, Truckfighters were supporting Kverletak in Manchester; this was going to be my brush with a band that has the best name on earth.
Here is what happened when I caught up with Mr Dango...
9hz: How is the UK treating this time round? I understand your not strangers to these lands!
We just got here so, the weather was good yesterday which we hadn't seen before. In 2006 we were here for 10 days so it was like 30 degrees! Like a heat wave over here. I seem to remember that!
9hz: What bands and individual musicians inspire Truckfighters collectively?
Well, the thing is we all kind of have different music tastes but we still have stuff that we all agree on, this guy (points to new drummer) is kind of new and he doesn't like Soundgarden so much which is strange!
It used to be that we all had a core of bands we all liked, Tool, Soundgarden and Kyuss of course but then Ozo really likes the old 70's stuff and I'm a fan of 90's rock stuff so I guess it's quite a varied sound!
9hz: I became a fan of Truckfighters after watching a video promoting the Fuzzomentary; did you feel that your fan base increased a great deal after the video was posted?
Yeah, we really did, there's no doubt of that, and it was a big difference. Just a famous person like Josh Homme to say something about you and all the people are like 'Woah!' The problem for all underground bands is to get people to hear and know about you as there is no marketing budget or anything like that.
I hope that people genuinely think that we're good and it's not just because this guy said they're good so they must be.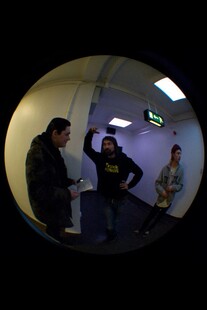 9hz: What amplifiers and pedals do you use live and in the studio?
Over the years, I've used many different amps; the main thing I go for is warm vintage tube amps for the right sound. Then I just need to find the perfect combination, I mean it just varies a bit. How I find the right sound is almost the same now as it was 10 years ago but still it's not exactly the same.
I think in the studio its possible, like with an old JMP Marshall but live it's not powerful enough. Like the first record we did, I used an old 50watt JMP Marshall which gave me the sound I wanted at that time.
When we recorded Gravity X, I used Orange amps, On Phi I used a few different amps like Sovtek, Matamp, Hiwatt but they were all quite temperamental. It's possible to get the sounds if you know how!
It's also important to have a good speaker cabinet so that you can get the power, otherwise it can break down, again; it's easier in the studio.
Nowadays I'm using Mesa Boogie Lonestar heads; we have an endorsement with them so it's a good marketing thing for us in Sweden. It's quite a versatile amplifier and it does all the vintage sounds but has many modern features too. I can get the sound I want on all volume levels.
I use a Russian Big Muff and many other pedals but the Big Muff, that's the Truckfighters sound really.
9hz: In the history of Truckfighters, why have you broken so many drummers?
I don't know really! He's been with us for a few months now and he's really enjoying it. First drummer Pezo, he was with us for like two years which a long time ago but he was smoking too much weed so he didn't really want to leave his house, practice or play live so we kind of fired him at that time.
We then found Mr. Paco which was a real phenomenon but after extensive touring in 2007, he broke his wrist and unfortunately, it wasn't something that doctors could fix so he had to leave the band. He damaged all the ligaments in his wrist.
After that Pezo came back and then this guy came along, we've not had the best of times with drummers so we're all trying to not think so much about it!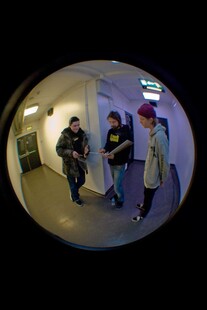 9hz: What is your current drum rig?
We're using a cheaper acrylic drum kit on this tour and on the last record; we still have Mr. Paco's kit in the studio so we still use that. It sounds really special.
9hz: Which album was your favourite album to record?
I won't answer that! I think they all have their own qualities, I like all of them. I would probably go for Mania if my house was burning down though.
9hz: Do you enjoy life on the road or do you prefer to stay closer to home?
We tour all the time so of course we like it! It's a bit different as me and Ozo both have kids, so it's a bit of a fight with the conscious.
9hz: Many reviews sited Mania as being a more progressive sounding album, was this you intention?
Well, we never intended to make anything progressive as such we just do whatever we do and whatever comes out is the record. It's good.
9hz: Are there any bands from Sweden that you feel need to be mentioned?
Graveyard, almost...Witchcraft, its 70's but it's still like alternative rock. There are a lot of bands that play 70's orientated rock. There's a band called Bluespills, you should totally check them out.
In Sweden we also have Dozer they're having a comeback gig now for Desert Fest, I think Lowrider are playing again too.
9hz: When is the next album out and does it have a title?
Definitely this year, I don't know exactly when, after summer and before Christmas?