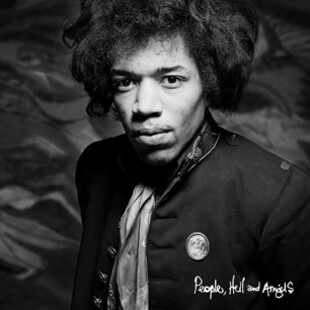 As the world began to mourn the loss of Jimi Hendrix on September 18th, 1970, many fans were probably unaware of the tsunami-sized amount of bootlegs, posthumous releases and live footage that was about to come crashing down over the next 43 years.
Jimi recorded three albums, Are You Experienced? Axis: Bold as Love and Electric Ladyland. These three records released between 1967 and 1968 in the great man's all too brief career, showcase some of the finest rock and blues music with all sci-fi avenues in between.
Live releases were very seldom approved by Jimi as his perfectionist nature would always intervene. Band of Gypsies is a prime example of Jimi; he initially hated the record, but due to an ill-fated recording contract with PPX signed early on in his career, he was tied to perform a live album...one of rock and roll's greatest 'happy accidents'.
In 1995, a lengthy legal battle began by Jimi's father Al and his step-sister Janie to regain control of the Hendrix legacy. This battle ended with the Hendrix family winning all rights to Jimi Hendrix' music and images and became known as Experience Hendrix.
The family have since spent millions of dollars and bought up a vast amount of recorded material from live shows to thousands of hour's worth of studio recordings.
The latest offering from Experience Hendrix comes from a line of albums since 1997's First Rays of the New Rising Sun to 2010's Valley's of Neptune. Named People Hell and Angels, the album opens with a familiar intro that featured on many late Hendrix releases, Earth Blues.
This track, still an unreleased version, sounds clearer and rolls nicely with the ever-solid band of gypsy's backline of Buddy Miles on Drums and Billy Cox on bass. This recording was recorded at the Record Plant in December 1969 as a warm-up for the Fillmore East gigs planned for the New Year.
The next track to blast out of the speakers is titled; somewhere. A minor blues jam with Hendrix, Buddy Miles and Stephen Stills playing bass, placing this track second on the record is a risky move as it could be the peak...then again, probably not. This showcases all of the best parts of Jimi, searing lead work from the word go, thunderous, cement-mixer style drums and intriguing bass lines; all mixed beautifully with chord work that most artists could only dream of.
A familiar intro that many fans of Jimi know is the opening bars to Hear My Train A Comin'. Without fail everyone and his dog has heard this, there seems to be literally hundreds of versions of this, I couldn't tell you which was best if I tried. If I ever meet Jimi on the other side, I will be sure to ask.
As the guitar solo rages in like a sonic serpent with enough venom to melt the universe, you fully begin to appreciate why this version made it to the release; this is also a fine demonstration of the band of gypsies rhythm section at its finest.
Bleeding Heart drifts in next, a variation on an old Elmore James tune that Jimi would improvise over and eventually make his own. YouTube the live Royal Albert Hall version from 1969 if you're still unsure, this version takes on a slightly smoother and more laid back approach with dropped beats and sparse yet fantastic guitar work, the ending is faded and cut before we get any more though, which is a great shame.
Let me move you swings in next and from the intrusive saxophone instantly makes you wonder why this even made it onto the record as it's not Jimi singing, it's not Jimi's style and is quite frankly rather poor. This is part of the Lonnie Youngblood sessions that were never really held in very high regard by anyone. What you do get if you can bear the nonsense sax and funk-by-numbers is a blistering guitar solo in the middle and ending that couldn't be anyone else. Clocking up an impressive 6:51, this is the longest track on the album and unfortunately the one you'll probably skip...
Izabella is next, a firm favourite of the later Hendrix work, recorded and released on numerous albums including a belting live version on the Woodstock album, this version features all of the members from the Woodstock festival, but does not contain anywhere near the ferocity of the debut version played on Yasgur's farm.
On the subject of the Woodstock film, the Hendrix family's latest issue of the performance on DVD featured some curious music on the title screen, of which I have tried to get a hard copy of for the past nine years. It is this, titled Easy Blues, a meandering bass line with some jazzy, uni-vibe-drenched lead guitar breaks and swinging drum patterns. Very pleasant jazz instrumental showing Jimi's possible future endeavours. This was originally released on the very rare and long out of print Nine to the Universe release from 1981.
One of the earliest posthumous releases after Jimi's death was titled Crash Landing which featured work that was incomplete and released as is. This specific track includes lyrics directed at one of his girlfriends that also ended up being the subject of Dolly Dagger; similar sounding stuff here and quite the soundtrack to black culture in the late 60's.
Unfortunately, there was going to be some filler on this release, the next track features Jimi trying out new ideas for other songs and experimenting with multi-tracking guitars as much as possible. As the instrumental bumbles along with primitive versions of the break down riff from Freedom, there are some interesting sounds to hear on this, not just the ones you've heard before...
For those of you that love the dreamy, Hey Baby – New Rising Sun, you'll be disappointed with Hey Gypsy Boy. This is one for the completists; this is an early version of Hey Baby. As nice as it is to hear this work in the early stages, it is quite odd knowing that Jimi definitely wouldn't have wanted any of us to hear this; it's like the original's ugly sister that has crashed your date.
Back on the none-Jimi stuff again, here comes Mojo Man where Jimi is pushed to side yet again allowing brief blasts through the funky-pseudo blues vocal that comes from Albert Allen, one half of the Ghetto Fighters that were friends of Jimi's back when he was looking for regular work in New York.
Woodstock influences creep back in for the album's curtains, Villanova Junction Blues. Many fans will remember this from the end of the film where hundreds of sunburnt and muddy hippies lumbered their way through the debris of the 60's. This track is a strange addition as it ends as it is about to begin...
Overall, this album is worth buying but evokes the same feeling as winning a prize at a hook-the-duck contest, you know you'll win something but it might not be that good. But as my father pointed out to me when Valley's of Neptune was released, it may be his worst but then again, his worst is probably a lot better than most of today's artists best.