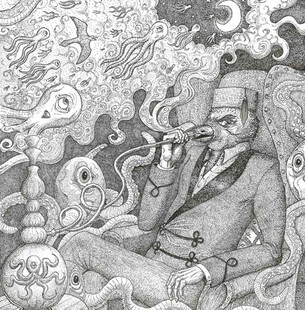 Fuck yes, Hey Colossus are back. To those unaware I bum this band into oblivion so I'm going to have to contain my excitement.
Not since Happy Birthday have I heard a better opener to an album by these lot, reinvigorated and breaking free of recent albums' overly masking fug of fuzz Hot Grave is like a motorik lance into the unknown (listen to it below). With former Part Chimp guitarist and vocalist Tim Cedar now on drums, it's a seamless addition. The bands have played together countless times and have the same sonic palate, heck they even shared 10"s of hot wax at one point along with Lords and Todd. The opener's vocals are just ridiculous but are welcome as this is a real stomper, complete with some electronic flourishes flying round under the surface.
Also, might be the only song I've ever heard with the lyric 'I'm fuckin' steaming' in, spot on.
Oktave Dokkter is The Fall's Dr Faustus in slow-mo feedback form, lot's of gnarled wizard vocals and creeping bass that stalks you, with the electronics peeled back for this release you can tell what's happening a bit better than more recent efforts and it's probably more accessible than RRR or even Eurogrumble but it's still a piss-stained train vestibule you'll wonder how to get out of.
We enter Acid Mother's Temple territory with How To Tell The Time With Jesus with metallic croaks, looped psychedelia and voices that appear from nowhere and then we're back to fuzzorama with Leather Lake which sounds perhaps most like their first effort Hey Colossus Hates You in its rolling doom-ish majesty. The band are often on their best form when just cranking the volume and getting a bit hypnotic like they do here. The vocals are distorted and conjure up images of the kind of near-waking nightmares Rip Van Winkle must have had under that tree he was having a really long kip under, inhaling his own beard hair forever.
English Flesh is full of too many corners and spiky objects, but still manages to captivate. The guitars manage to sound like squeaking brakes and the waves of feedback roll around your skull like too much wine, carrying on long after the track oozes to a close.
Pit and Hope has a more relaxed feel and has what sounds like field recordings slipping in and out. Some shopping centre ambience perhaps, or just loops of speech? Either way it's possibly the quietest I've ever heard HC go, the soft guitars eke out a solitary path before looped chanting fades in lightly from the ether and subtle changes take place here and there. Keys slide into view towards the end and the whole thing takes on a greying, corrupted feel. Like watching a battered and track-ridden VHS of a folk show after a heavy night on the cider.
This is one of the most innovative albums these guys have released. There's enough here to appeal to all fans to be honest, like an amalgam of their past efforts via some pretty strange choices, but it works. Of course is does, it's Hey Colossus.