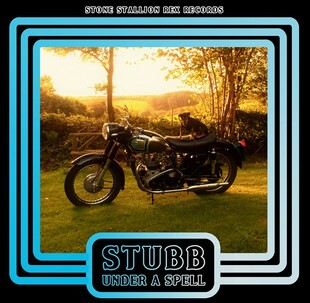 Seven inches of loveliness from what could be my favourite stoner rock/classic rock band at the moment.
Stubb has always been Jack Dickinson's groovy baby and the 70s is strong with this one. Under A Spell sounds just incredible. Jack's vocals have taken on a gravelly vibrato that works perfectly with the raucous squelchy blues on display here. There's also some sweet Hammond under there too, giving it that ELP twist and a Sabbathian feel all of its own. It's brief length is just enough to fit a widdly solo in there before a bit of a wigout with the organ too.
B-side Bullets Rain (From An Angry Sky) is more Ozzy than the flipside, but has a camp kind of stomp to it as well that's almost ZZ Top or Iron Maiden in attitude. It's all leather and sunglasses and flipping the bird before riding off into some kind of clichéd sunset. Try this on London though and you'll probably just end up in Kingston, not very rock and roll.
The cover to the 7" apparently comes with a nice packaging treat too, being textured. It features what I presume is Jack's chopper (no ladies, not that kind) in the sun, very cool. Limited to just 300 and on a rather fetching blue slab of wax, this is the perfect follow-up to their album last year. Can't wait for more!