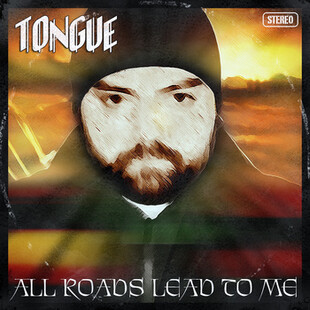 So, here we have a three-song EP from Tongue, a Serbian duo from Belgrade (who we reviewed before - Ed link!), led by Vladimir "Ripkid" Bizic on vocals and guitars and ably assisted by Vojin Klickovic on bass and drums.
Now, I didn't know what to expect from this release when it was sent, but I almost expected it to be gritty and raw, all doom and gloom, rising out of the Belgrade underground like The Sex Pistols from 1970's London, instead I am greeted by a wonderful slice of infectious stoner rock with a great pop vibe stamped all the way through it. Shocked doesn't even come close.
Tongue are a band that don't seem to want to stick to the conventional or normal and are happy to go about their own way, producing songs that appeal to them and make others feel happy.
How you Made me Feel is very reminiscent of some west coast punk pop that might appear on the Punkorama compilation CD's that sit very proudly in my rack at home. It's infectious and makes you want to grab people and pogo around the room. Not something that would sit well with my office colleagues. It just puts a smile on your face and makes you think of summer festivals and drinking cider.
In total contrast, a more sombre acoustic approach awaits from Monster Walks the Summer Lake. With its haunting vocal, the music is just so diverse, yet deceptively brilliant, and showcases the talents of both musicians in a more elegant and refined manner.
The collective brilliance of Tongue is displayed on the final track, All This Warmth as it delivers another style, bringing a punkier, edgy tilt to the music. As releases go, you couldn't ask for something as eclectic and diverse as this little jaunt, so grab it on free download and enjoy.