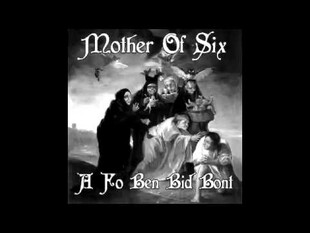 Mother of Six are a band that have been going a lot longer than most, I began following these beasts back in 2007 following the release of their then EP, Castell. From the second the riff's flowed and the vocals drifted in like a sonic, psychedelic garden of sound...
2013 brings Wrexham's heaviest mothers back into the spotlight with their latest release, Eadem Mutata Resurgo, roughly translated from Latin, this means 'Although changed, I arise the same' as the first track blasts in, aptly named, Children of Mars, the riff catches the imagination of the listener like a planet exploding three hundred thousand light-years ago; Space-Doom at its finest.
The band themselves have undergone line-up changes on bass, keys and the addition of a second guitar player. These changes have resulted in MO6 taking their music in slightly different ways and have avoided any staleness occurring in the song structures and dynamics.
Track two gets straight into the swing of things, titled OES this track has a video that is ethereal yet unbearably heavy with a penetrating guitar sound that marches to the sound of the wrecking-ball drums. Sang in an undecipherable language and followed by the drone of bass guitar and dual riffs this is not just stoner rock, this goes one step further into Druid-space-rock.
Recorded in 2012 at the legendary Foel studios, Chris Fielding has done quite a spot-on job of capturing these gents in full swing with plenty of meat from a Sunn Model T as well as Matamp Green amplifier.
There is an acoustic track situated in the EP, called Charlemagne, whether or not purists of MO6 will dig this addition is another question, this track is one of their experimental tracks that give the listener a break and allow them to hear how much power can be shown in the lead singers voice and what can be done with a minor key, Hammond and synth exercise.
Feedback and the standard doom explosion boom in on the ears next, trying to get a guitar to sound like this takes a little more than just tuning down, turning up and stamping on a Big Muff fuzz pedal, it takes demons, lots of them, Mother of Six must have them by the boat-load.
This track leaked a while back on the jolly old internet as A Fo Ben Bid Bont, i.e. Let the leader be a bridge, Latin again, but there is something slightly more sinister going on with this one, leading the listener in from a drone into a slightly dreamy dual guitar riff with plenty of meat behind accompanied by a vocal that fades in and out like a progressive time-travelling zombie.
With the longevity of the curtains of the final track, it's interesting to hear the band explore different avenues of a progressive side, space noises galore, tempo-shifts and something a little bit different smashed into the mix of a ten-minute track.
This is four tracks that are more than worthy of a listen from any of your ears, maybe even possibly, the final front-ear.