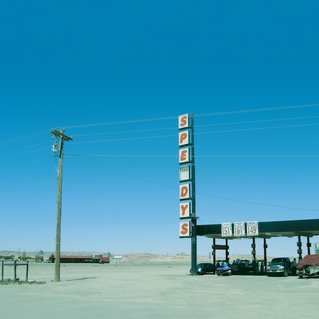 Brokeback is one of the most persistent musical outings of Tortoise's Douglas McComb. The band, led by McComb, have been together in various forms for well over a decade but a revolving door line-up has ensured that each album remains distinct.
The current incarnation of the band takes in James Elkington of The Zincs and Chris Hansen of Pinebender, whose influence is clear on the closing track. The band's latest album is their first release in 9 years and probably their most diverse. Brokeback and the Black Rock sees McComb largely abandon the experiments in repetition and subtle, lo-fi song crafting that set apart Field Recordings from the Cook County Water Table in favour of stabs at Santana-esque wailing combined with Hex-era Earth guitar drones dressed in high production values.
Brokeback and the Black Rock is rarely understated; favouring reverb-drenged, swirling guitar crescendos to the peaceful of some previous releases. The album has genuinely brilliant moments that occasionally last entire tracks Gold! and Don't Worry Pigeon stand testament to this) but its inconsistency is ultimately distracting.
Tonight at Ten and Tonight at Eleven sound like a two-part youtube guitar tutorial and derail an album that, to my ears, would be made increasingly coherent by their absence. Brokeback teeters on the edge of falling into the Tortoise trap - at its most tasteful it screams The For Carnation and at its least, jazz fusion. Brokeback don't intend to be ground-breaking and, with the exception of the two Tonight tracks, the album showcases a confident and accomplished band carving out sounds that are just tasteful and just ambitious enough. I'll listen again – mostly to work out whether the album's opening guitar lick is a Kate Bush reference or not.