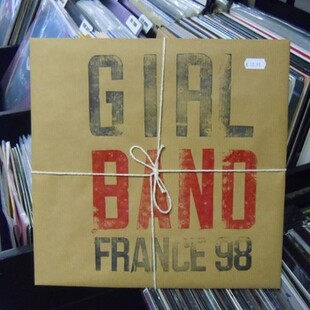 Girl Band seem to be a bunch of guitar-botherers from Dublin.
Their sloppy, yet cool sound is repetitive, fuzz-soaked and reminds me of recent Rough Trade peeps we reviewed You And What Army Faction. However Girl Band have less of a slow washing machine production job, more guitars colliding against each other with gaps where vocals croak out some excellent lines like I like your face, but not your nose/I like your friends, but no one knows.
All of this release stinks with a waster vibe, but it somehow works. You can imagine them all on their own little world on stage, the drummer smashing away while the guitarist looks like he is being electrocuted, the bassist staring off into the middle distance.
They turn on some sort of energy for the start of the title track, giving them a twisted Pixies/Sonic Youth vibe but it's all a bit removed from that. Not quite in the same league as the likes of Times New Viking or any of those kind of feedback-strewn bands from the mid-2000s but we're getting close here.
Second One has a celebratory air, lots of jubilant guitar parts that sound almost like Trans Am or The Fucking Champs at times. Girl Band are nothing if not unpredictable. All lank hair and loser vibes one moment, a ball of energy at others.
Take a listen and you'll see what I mean, it's a bit detached and oddball, splaying out its limbs so that you can't get it into the mail room, let alone a pigeonhole.