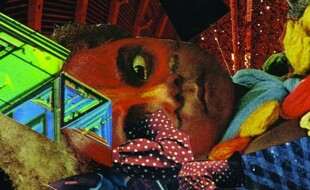 Humanfly are back with their new album Awesome Science, and as we gently ease into opening track Golden Arrows, it sounds like business as usual for the Leeds quartet, with towering melodies and heavy riffs that meld the beauty of previous releases II and Darker Later respectively.
However, 3 and a half minutes in, and those prog muscles they barely kept under wraps are well and truly flexed, and the band go for a free swim. If you thought prog was a dirty word, then here's another one for you; jazz. The loose and fluid drums and guitars let rip, as the band give the next 5 minutes of riffing a good seeing to.
Kicking off the next song, A Majestic Story, with a measure in god knows what time signature, the band emulate Cave In at their finest, it sounds like an out-take from Jupiter, with shimmering guitar lines, falsetto vocals and take the song into orbit. If such a thing as structure exists with Humanfly, then the second half of the track sticks to that, where they once again go off-piste and show off their maturity and skills. It's majestic stuff!
The Apple That Never Fell starts up with a riff being hammered over the anvil of prog, once again borrowing Cave In's guitar pedals, and dealing with some Mastodon-esque harmonised riffage. Then the vocals come in, the track has been turned on its head, and we're back at the beginning, or is it the middle now? Ignore what I wrote earlier about structures, my tiny mind has been blown. It even manages to end with a short interlude, and a final bout of more riffing which leads in nicely to Poetry Of Affair.
With a length of 4:58, is the shortest affair on offer here, but by no means the least restrained, it still packs enough riffs and changes into one song than most bands manage in one release. This is not prog for the sake of it though, the underlying theme and message can still be felt, it's not a random collection of riffs.
By comparison the relatively straight-forward and driving The Armour Of Science is the most easily digested track on offer, but only for three minutes or so, as the band cannot resist another tour of the riff factory and fill their pockets with as many as possible, before settling down and ending with a galactic passage that reaches for the empyrean
After the aural battery and sheer weight of riffage dished out over the course of the album, the final leg of journey Frozen In Time, Billions Of Light Years Away begins with welcoming gentle waves, before one last flex of the rippling prog muscles and everything is pulled into a black hole
What we have here is a very clever and demanding album, that rewards you with each listen, as you pore over the gatefold album sleeve and discover something new each time. Foe those who need their music to be pigeon-holed, if such a point of reference exists, then think of it as a meeting of Mastodon, Isis and Cave In with the classic 70s prog of King Crimson, Rush and Pink Floyd.
This is an album borne of long hours of jamming in a practice room where ideas have been cut, hammered and forged by musicians who are coming into the apex of their skills