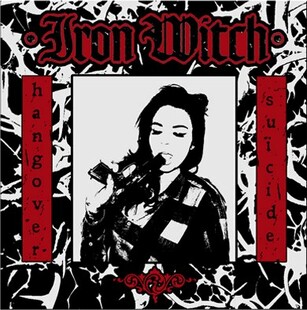 It makes a change to review a 7". It takes me back to my youth when I bought the special edition blood pack of WASP's Animal (Fuck like a Beast).
Anyway that's enough about my dubious past- who and what is Iron Witch.
The guys hail from Liverpool and have had a couple of EPs out in the last few years. If this two track single is anything to go by they would well be worth trying to find. I love a bit of Doom and Sludge but with the new wave of bands I sometimes find it a bit meh- lacking in originality and frankly a bit dull. What lifts this above the treadmill of NOLA copyists is the combination of memorable riffs and the spirit of bands such as Black Flag. I am a bit of a sucker for hardcore, throat lacerating vocals which are in great supply here.
The two tracks, Death Was the Colour and Hangover Suicide are different enough to show that the band has some range. I can well imagine being up the front at some sweaty hall swaying my head in an appropriately doomy fashion.
The first track has two separate, crushing riffs. Chris' harsh vocal attack works well, particularly when the tempo picks up. Hangover Suicide keeps the pressure on and at time is crushing, particularly on the slower, instrumental passages. Yes of course there are some obvious influences but the combination of it all is something unusual and frankly a bit tasty.
FYI- the guys are playing Brixton on 3rd February. Could well be worth a visit.