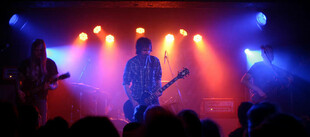 With so much reviewing talent, we managed to get two reviewers to two different dates for The Sword's latest tour, enjoy Manchester and Camden takes on the tour...
Manchester Academy 3 08/01/13
Support from Black Magician and Lonely Kamel
By Sam0)))
Whilst I hurtled towards the Academy 3 in order to get there in time to interview the Sword, after arriving in time and being greeted to a familiar face that grinned and blared, 'Ahm Kyle, nice to meet ya!'
I knew that this would be somewhat of a superb show, regardless, I finished up with the interviews and went to the bar to sample the infamous draught Tuborg and awaited Black Magician to show up.
As the pink and purple lights dimmed, Black Magician took to the stage and started to fire up their amps, I realised that when we could all hear the band tuning up, we might not be dealing with a band of a similar standard to the Sword or Lonely Kamel and possibly a band that were booked in error or in a last minute filler for the original bill line-up.
Unfortunately, I wasn't wrong, after 10 minutes of a generic, down-tempo riff played on an SG, we were given the announcement by the early Ozzy-clone that "WE ARE BLACK MAGICIAN AND WE PLAY DOOOOOOM!" I guess the time-tested formula of the early Sabbath records will never die, but the stereotyping of these guys to every other band that have decided to try and emulate early Cathedral and Olde English Dooooom. In other words, these guys had nothing new, sounded boring and made me smoke more cigarettes than I cared to, nil points.
Next up, Lonely Kamel, Here's a band from Norway that weren't fucking around, they got up, turned up and blasted some of their heaviest grooves, it was like hearing Led Zeppelin all over again, ironic lyrics about chicks, weed and drugs and searing guitar work. The highlight of their set had to be the reoccurring bass that would thunder through in various parts making most spectators think that they were about to shit their pants like the audience at a Hawkwind gig in the 70's when the brown machine would blast in. You need to listen to this band, better yet, go and see them!
After a brief break, roadies emerged, Tuborg flowed into another plastic cup and the Sword took the Stage. Having seen these monsters back in 2009, I am pleased to report that they have only become a formidable force in the world of badass-ness. There were a few tuning issues in the opening numbers from their latest release but these were soon ironed out.
The band soared through all of the bangers off Gods of The Earth and Warp Riders, mixed in with a few pleasant additions from the latest album, every song was note perfect and the songs that everyone waited for were greeted with a crowd-roar.
Sounds like the ones heard from the Sword were akin to that of every mountain in the universe crashing down with furious thunder and deafening conviction.
It made me glad to be stood in such an intimate venue watching a band with an iconic sound perform. I remember when the only time you could really see the Sword play was when they toured or broke-through with Metallica on the Death Magnetic tour, my friends and I were trying to work out how we could save up to buy a ticket then pawn the ticket outside when Hetfield and co. Arrived.
Anyway, the Sword fucking rule, they will come to your town and burn the fucker down. If you've not bought any of their stuff, buy it all, including their own-brand hot sauce and beer, if you've not seen them live; be sure to do that too and buy a tee shirt whilst you're at it.
Camden Underworld, 10/01/2013
Support from Amulet and Lonely Kamel
By Stirling
It would be an understatement to say that Austin, Texas stoner/retro-metallers, The Sword, are currently going through a transitional period: they're promoting their new long-player, have recently signed to independent Razor & Tie after six years with Kemado, and recruited ex-Recover drummer Santiago 'Jimmy' Vela III midway through their Warp Riders tour.
With the turn of the year upon us, this affords them the ideal opportunity to demonstrate they're entering a new dawn by showcasing new album, Apocryphon - a more 'musically diverse' album 'more rock, less thrash', according to vocalist JD Cronise. And with their newest release entering the US Billboard 200 at no.17, there are many points to prove to a crowd that, based on the Sword's previous enterprises, ironically needs nothing proven to them.
My first live review for ninehertz and I have drawn the Sword (pun fully intended, sadly). On a bitterly cold night in London, we're treated to the sold-out offering at the Underworld. Guitarist Karl Shutt, on the back of previous support tours with Metallica, prefers these smaller, dingy venues to his credit, but I couldn't help feeling they could have upgraded to a bigger venue such as KOKO or the HMV Forum without breaking sweat. However, if any band has the ability and inclination to bring the house down, these desert rockers will happily oblige.
Kicking things off are '80s heavy metal revivalists Amulet, replete with leather-tasselled waistcoasts and warlock-style guitars, who get things going with a wailing whimper more than a brutal bang. They're followed by Norse warriors Lonely Kamel, long hair draping and richer, downtuned riffs dripping with pervasiveness, whose groove in the heart fuzziness and frenetic energy lays a more suitable foundation for the main attraction. Think Kyuss's …And The Circus Leaves Town with a more Southern drawl.
The definition of Apocryphon is 'secret teachings' yet there's nothing cryptic as to why The Sword have built a popular reputation. Their set isn't a chin-strokers' affair by any stretch of the imagination: they eschew overserious, Pitchfork circle-jerk banality to deliver Dungeons & Dragons-inspired classic metal with a doom twist. Their relentless touring schedule comes to the fore in their tight and flawless performance as proceedings kick off with The Veil of Isis, and for the next 90 minutes they deliver a riotous, groove-laden set filled with live staples Freya, Tres Brujas and Maiden, Mother & Crone, and numbers from critically acclaimed debut, Age of Winters. There are a few vocal issues undermixed in the set towards the start, but by the time they dive into third song, Hammer of Heaven, all is forgiven. The single - released last year - didn't make the cut of neither their debut, nor, indeed, last year's Avengers film, but the superhero fantasy vibe is strong in this one, to which the audience greatly channel them. And possibly Loki and Thor, but probably not.
Singer JD Cronise is obviously relishing the new challenge set out before him, his voice stronger because of it, while new drummer Santiago Vela takes over sticksman duties with aplomb from the brilliantly named but departed Trevitt Wingo. Maybe he rolled 2D20 and became immortalised in Hero Quest heaven, but I digress.
Banter and chit-chat from the Texans is kept to a minimum; they're more about rolling out a conveyor belt of ravenous riffs, and the crowd happily lap them up. Diversity of the crowd is refreshing: photographers in the heaving pit jostle for space with young recruits to the cause of The Sword, while patch-jacketed old-timers watch intently from afar. Their range is so easy on the ear, laid-back and fundamentally cool that their demographic knows no bounds.
After coming out of the gig, I cycle eight miles home in near-record time from the adrenaline of the show, while icicles attempt to squat on my nose and my teeth judder like a wind-up denture toy. But hey, live by the sword, die by The Sword.