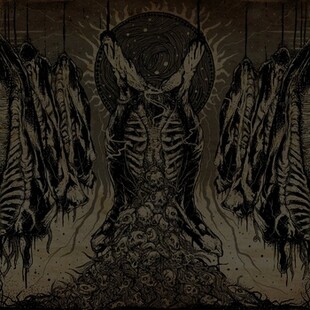 Death Tripper from Nottingham and Meatpacker from Leicester have come together for a snorting, snarling split 7".
The results are particularly nasty, this is grinding, speedfreak stuff mixed with the heavy, cast-iron hardcore that only the UK seems to be able to do with this much venom. Yanks tend to come across as laughably cheesy or overly serious in these cases.
Death Tripper, which features Boulty of the city's best studio, Stuck On A Name on guitar, blast their way through their side with a brutal and assured confidence, even finding time to add Diet Pills levels of bass and a slow chopping riff in Sleeping Like A Corpse, which seems to be about having a hangover, the vocalist screaming Fuck, My Head, Never Again towards the end.
This has the downtuned, sluggish stagger that you sometimes need from faster bands to contrast and bring out the extremity of the pure buzz of the blast.
Meatpacker on the other hand is like pressing your face against a belt sander. For serious.
The vocals are those strange, processed kind favoured by the likes of Converge, but this is the pure hatred and anger that only grind can bring.
The lyrics suggest some veggie/vegan bent and some disgusting lyrics do make their way in to drive home the point of eating animals being murdered for our enjoyment.
There's no running away from: "Strung up upside down/Still kicking/Life falls away/All over the concrete floor" or maybe they just have a grim obsession with butchering things, a little concerning if so.
Only during the closer Splitter Top/Bottom Butt is there a break in the cold blast, but there's samples of pained screams and sinister whispering which adds to the dread.
I'd love to hear a Meatpacker album, as I think they could probably extend the themes a bit and make a truly gruesome album, however a primitive blast of Death Tripper is all you need. I imagine their live sets are a brief affair, song, feedback, song, feedback x4, then fuck off. Perfect.