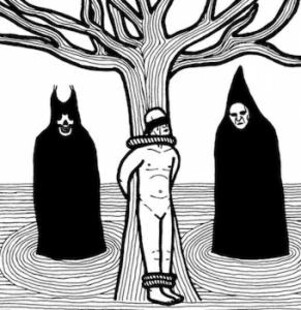 Cattle are a Leeds-based three-piece and this is, to my knowledge, their first exultation.
Exultations is probably the wrong word for this, what it is appears to be an oscillating sticky grenade of basslines, half-screamed vocals, tin can drums and a confident bent.
Witness the amazing Rocket which lollops its way toward you with a repetitive bassline and a wild, noisy guitar lick that sounds for all the world like early Chickenhawk. It's not Kerosene but it's a distant relation for sure.
The repetition is a trope of theirs immediately, but it's a restrained cool at the same time. Sounding in parts like The Fucking Champs or similar twisted guitar rock, Cattle have got an intriguing quality to them. The vocals are sparse through the time-change heavy Whoa Bessie and serve to send you down that Melvins route too. More in common with the likes of their great collaboration with Lustmord than traditional material, this is a band that paints in big, thick shit smears rather than tasteful pastels.
There are shades of the Leeds livewires That Fucking Tank here as well, it wouldn't surprise me to find one of them is in this band, if not they are certainly fans of the baritone-led twosome. I'm sure they'll enlighten me when this is published.
Yeah so if you like a descent into madness via the Leeds ring road, madcap bass and the amalgamated sound of DIY bands from every which where, check Cattle out. They'll be playing the Brudenell no doubt very soon, they have that vibe about them, cool.
Have a listen here.