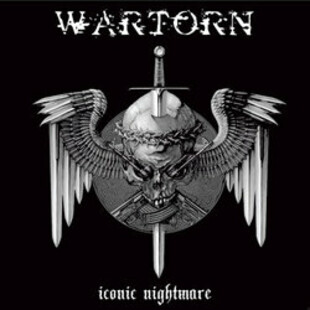 This is crust done properly, full of political angst and with ideas brimming over their rusty, unhygienic cup.
Wartorn have been going for eight years, plying their trade on several independents before settling on Southern Lord. They have a great home there, with the label increasingly diversifying and playing host to more crust punk and hardcore than it used to.
Iconic Nightmare bursts out the speakers like a dog from a trap, with production that leaves any notions of genre boundaries behind, focusing on being able to hear everything rather than simply the snare and guitars like most d-beat or budget crust does (there's a time and a place). What we have here then is a less clinical Wolfbrigade, vocals vary between screamed invectives full of politics, rallying against injustice and inequality and a low death metal grunt which gives it a blackened, evil element.
They also regularly step off the gas too, allowing guitar solos to take a bit of limelight like on the strident Six Feet Under which soon speeds up to become a twin guitar assault too. This is crust in a considered, almost classy way but delivered in a way which also retains that raw bite you crave. Taking Swedish influence with American gung-ho spirit, it's a great release that will probably mean you return to it again and again, something the genre perhaps suffers from a lack of.
Other tracks are a glorious mess, take Knee Deep In Blood which goes off like a bottle rocket, complete with pealing leads and feedback thrown in liberally. This conjures up cider being thrown about a space nary big enough to swing a cat, fun yet intense, I imagine it's either a case of taking cover or being very involved live, just brilliant.