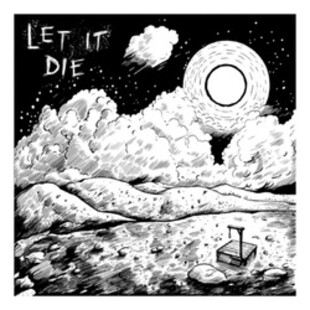 Let It Die are back (that was quick!) and are still as raging as their demo showed before.
Vocalist, Red, seems to have stepped up a gear in terms of lyrics as it's all become a little more direct and the sense of outrage is strong with this one.
Sample the short but sweet 27-second Funeral Of No Tears and it almost seems like a sonic attempt at defining 'to the point'.
I don't have to explain myself/Or bow to your biased ways seems to be the order of the day. The best description I can come up with for Let It Die's rush of noise is a more energetic Dystopia or a less pilled-up Crossed Out. It's self-loathing and misanthropic, but never descends into bro-like machismo, which they could easily cross over into with some terrible gang vocals or some chug-punctuated monosyllabic lyrics like WE! WILL! NEVER! GIVE! IN!
What we have on this frankly packed 7" (there's six songs on there) is a band on their way to making an album varied enough to stand out among a world of similar-sounding bands. Apparently they kick it live too, so it's to my shame I haven't checked them out yet. Mind you, if they employ the feedback that rings in Solitaire at gigs, then you might not be able to hear them anyway.
Grab it via Moshtache Records and Dead Chemist Records or listen to it here.