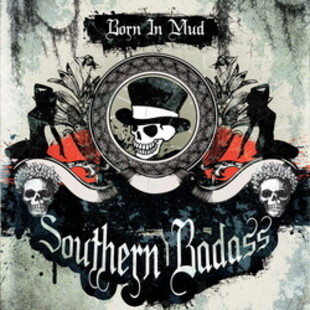 And so it begins, the slow melodic build up, a single guitar setting the scene. What lies before us, no-one knows. Let's open up the casket, dive straight in and discover what lurks inside…….
Southern Badass are a French stoner/metal band who combine the stoner bass lines of Down or Sasquatch with some heavy edgy riffs drawing an influence from Metallica, that when juxtaposed together form a solid base to display their talents.
Some elements of their music make you want to start a fight such is the ferocity of the fantastic shredding skills on display, whereas other times, the chilled out vibe will just make you want to recline on a sun lounger and break out a cold one.
After one or two listens of the album it is starting to grow on me, there are some areas that I'm not so keen on, for instance how can the singer and multi-instrumentalist, Arno Bechet, sound so much like he's actually from the deep south? Call me a stickler but I'd love to hear this sung in his native French tongue.
I remember hearing MC Solaar rapping in French on Guru's Jazzmatazz and it was so refreshing, plus singing in German hasn't exactly done Rammstein any harm has it? Also how come in the middle of Storm, he turns into Jon Bon Jovi (shudder) but when he sticks to the formulaic stoner rock ethos, Southern Badass produce many fine moments on this album.
For instance, Call of New Orleans is a delicious concoction of southern riffs and pure stoner magic. It begins with the sort of guitar playing that makes you want to bang your head. With a catchy chorus line, it does remind you of Down at their simplistic best, classic stoner/doom music, with a poignant message attached to it. Sadly for me the middle section lets it down slightly, before the pace is knocked up a gear to hit you square in the face.
Then they break from their ways a little and deliver a piece of music on Dusty Road that seems as if it has come straight out of an epic spaghetti western movie, you can imagine Ennio Morricone being pleased with this composition himself. A fine instrumental piece that displays imagination and a well thought out tribute to the western genre.
Arno's vocal range is displayed really well across the album, as he shows that he's not just a fireball of rage but shows that he can actually sing with passion and great pitch, delivering in equal amounts across songs The Witch and Voodoo Girl, which shows a tenderness in his voice that will keep you captivated throughout.
To me the finest moment on the album is Back to Where I Want which showcases Arno's talents both efficiently and effectively, as it happens to result in a snarling, bear fight of a song, tussling with your emotions, the bluesy rock guitars giving the song a hidden depth and meaning.
For all of the minor faults that I have pointed out, this album just works and I haven't been able to stop listening to it. I like it. In fact, I like it a lot...