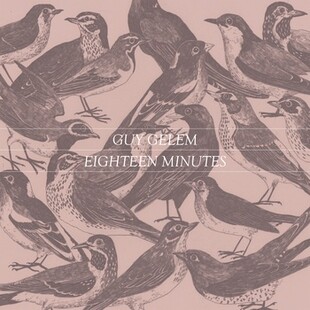 Guy Gelem. A cellist from the Czech Republic. Experimental music. Eighteen Minutes is an EP of, yes, roughly Eighteen Minutes long, give or take a second.
Upper, the first track, with its plucked strings, muted pulses, distant hand-claps and sorrowful mood unsettles. On edge, I feel like this is the music to a title sequence, a spy film in 1980s Europe, rain and people walking, following and being followed.
The Last, conversely, has a more gentle approach. More plucked strings, sounds that make me think of a clattering wheel underneath, that lonesome cello again. All sounds, I assume, emanated from the cello. Gelem pulls a lot of texture and tone from a single instrument.
Search, Find, Keep sounds like there may be some found sound, samples, maybe a drum machine in use. It sputters along on a skewed beat. There's definitely something here though, something to hear. The beats make me think of Jan Jelinek's Loop Finding Jazz Records, but the cello makes more of the music than Jelinek's sputtering moire of noise.
The Seventh, the last track, leads with echoing acoustic guitar, layers of strings calling out over it, a rising tide of harmony. It is the most ephemeral track, a soft close. Perhaps it doesn't catch your attention as well as the others, but it is not unpleasant even if it meanders somewhat.
Gelem is an unexpected find. If you like the experimental with a mix of classical instruments and electronic and studio-made twitching then I'd advise giving Gelem a go. There is something cinematic here, akin to Nick Cave and Warren Ellis's soundtrack output. I'd very much like to see an independent film scored by Gelem.
The only disappointment of this release is its brevity. Four tracks, fleetingly present, that leave a hunger in the ear. Perhaps that is a positive, as one can happily spin the release again and look forward to future output. But with four tracks no greater than five and half minutes at the longest I do wonder what a longer individual track or an album's worth of material would produce.
Off at angles, leaving you occasionally unsettled but always interested, Eighteen Minutes is worthy of investigation.