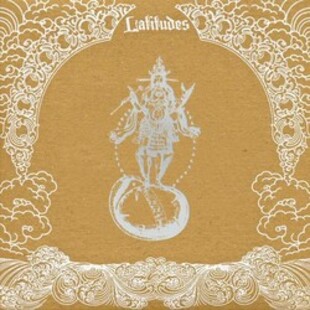 Yntra is a three track EP resultant from Bardo Pond's Latitudes Session. Other artists who have done a Latitudes Session include, most recently, The Haxan Cloak and Chelsea Wolfe.
I'll happily throw my hands up in ignorance at those names, and indeed whether Latitudes Sessions are a big thing or not.
What matters is more Bardo Pond.
I can quite happily blame Mike, our fearless editor at 9hz, for my discovery of Bardo Pond. Specifically, he played me Lapsed, and I fell hard for the fuzzy psychedelic sound.
The band have been aligned with the likes of Spacemen 3 and My Bloody Valentine, which is fine company to keep in my eyes. However both those names are associated, for me at least, with a certain control in their sound. Wild, wide-eyed though Spacemen 3 and My Bloody Valentine may be, there was always a sense on their releases of a lot of studio trickery (See MBV's Loveless) and hidden control.
Bardo Pond on the other hand have a live sound. There's a loose, jam vibe to my favourites in their output. Going with the flow. And they are definitely more willing to lose control and let fuzz and distortion wail out, let a groove take hold and a beautiful mess of noise roll out.
Yntra is definitely in the vein of a jam, being a session set. It spirals out of my speakers and catches me. Good psychedelia does that, pushes you into its groove so you ride it out, let the sound pull you along wherever it's going.
What's on show here is two seven minute growling overdriven jams, and then a twenty minute epic that howls off into the far reaches of space/your mind.
Opener The Crawl is run through with an insistent beat and accompanying guitar, guttural feedback squalling all over whilst singer Isobel Sollenberger calls out high and far away. Straight away I'm in with it, zoning out, staring inside.
Side To Side is a heavier, sludgier affair. It purrs and growls whilst lyrics are sung just low down enough in the mix to leave me uncertain as to what is being said. Less of a groove to catch me here, but the variance is welcome as each song is clearly its own thing.
A Crossing fades in, already moving, as I've said already an altogether more space-bound psychedelic piece, the heavy growling guitar of the first two tracks abandoned for smoother tones. Circular guitar phrases, Neu!-ish drums, with flute, vocals and lead guitar taking turns to reach for the distance, this is the most obvious jam of the three. Again a great groove, puts me in that hypnotic place where I'm looking sightlessly ahead of me and going somewhere else. All the more pleasing for its length because that time spent elsewhere is long enough to really get there. It surges up and up, fading out at the end because you know a song like that can never really stop.
If you like your rock psychedelic, sprawling and your guitars dirty, fuzzy then Bardo Pond are your kind of band. This session release has the air of live jamming in the studio as it suggests, and is pleasingly wild and loose as a result. Definitely worth a listen.