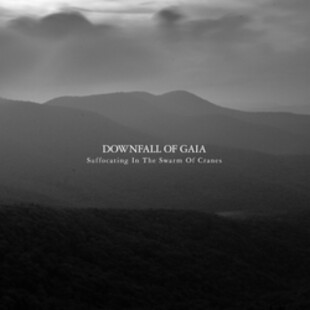 Downfall of Gaia are an interesting band, with their past in the realms of crust as Neurosis before them, they have evolved into an altogether more intelligent and atmospheric act.
However, where Neurosis have taken the tribal route and matured into pastoral post metal, Downfall of Gaia have taken a blackened route through the forest, snapping carbonised and charcoaled branches beneath their feet to create a black metal-esque, twisted sound.
Lots of atmospheric interludes pepper what is essentially post metal put through a Norwegian upbringing via Germany. The band are keen to point out that while they hail from the same place as The Scorpions (Hanover) their sound couldn't be further away from this. This is an absolute truth, no hint of cheesy whistling here, only whistling feedback and raw, rabid screams over gargantuan riffs, punctuated by a stormcloud of percussion and distortion. The Germans know how to push a brutal sound and like their countrymen Black Shape of Nexus, they don't stop until your brain turns to an oily gloop.
The slower sections are moving, often featuring a lone trebly guitar picking out an isolated riff, before with no warning, a Wolves In The Throne Room-blast takes your face off like a dusty belt linisher. Witness the wind-swept and glorious crescendo in extremis of Beneath the Crown of Cranes for a great example of how this kind of genre-defying stuff works.
Check this out if you need an album to give you that reason to push on through the winter weather, it's unreal.