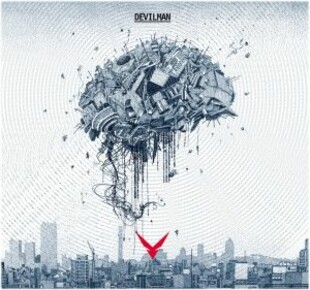 Devilman were one of the highlights of this year's Supersonic festival, with a bass sound so deep it made it hard to breathe.
To call this dubstep is an insult really, it's much more clever than that, sure there's the vibration and distortion of industrial beats and a bassline that is ploddingly repetitive, but this is simply the bed on which Devilman float above.
DJ Scotch Egg (bass), Dokkebi Q's Gorgonn (electronics) and Bo Ningen's Taigen Kawabe (vocals) all come together to create a dangerous, almost sci-fi sound and it's an all-enveloping, mysterious wonder. The fact Scotch Egg is playing bass in the traditional manner means it has a more organic feel than a run of the mill one-man dubstep act, it's more prog via dub. There's samples that ring in and out of your consciousness like the police siren on 21 Seiki Dub which has the percussion set to Eastern European factory levels and just oozes cool.
The sound is varied enough to keep you interested, while still having that club-friendly vibe about it too. People were bobbing up and down to it at Supersonic to this and you can tell why, it's got that head-nodding element to it, but the real appeal is the variation of sound on it. Noise Step for example uses found sounds to create the beat, static and digital hisses chime in time and garbled radio snippets are used as percussive snares, giving it a sticky and tar-like sound which astounds with every repeated listen. It's a shame I'm listening to this through a piddly set of laptop speakers as it would probably shake a car to rust and level homes if not shelving units.
The track 93 has a Melt Banana vibe to it, with screeched grind like parts giving way to a menacing, ealy 90s hip-hop kind of vibe (think LL Cool J's Mama Said Knock You Out gone acidic) and alternates between these two.
Last Black Emperor might be the hardest pill to swallow here, seemingly constructed from glitches, it hums at an ear-damaging level, all digital smear and treble-ridden feedback, it builds to a point that is almost unbearable before slowly dying in binary vomit and fading out completely.
A harsh listen, but if seeking that balance between noise experimentation and a good beat, Devilman could be the outfit you were looking for. Look out for them playing live as it's simply mind-blowing.