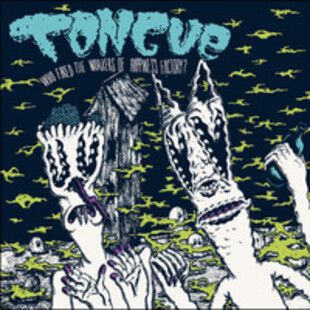 Tongue are a rock band from Serbia and perhaps the first Serbians we have reviewed.
Nationality has nothing to do with the ability to rawk though and Tongue are adept at it. It's off-kilter and heads-down stoner rock-inspired metallic stuff. The whole sound has an 80s edge to it too, lots of influence in the vocals from the likes of Julian Cope and The Cult. the music follows a similar trajectory, lots of palm-muted bass and big tubey riffs that pound out of the amps in layers, making this a unique and almost uncanny EP to listen to. Opening track Happiness Factory stops to let the band cackle for a bit before hitting the 'wigout' button for the final minute, great stuff. There's even some wolf howls in there and a riff that sounds stolen from The Sword, mad.
Spark of Light enters the fray with a more stoner rock vibe, with almost a 90s indie/shoegaze sound. Lots of repetition and layered vocals with a BIG bass sound and some typically psychedelic lyrics.
All too short. Leaving All Behind is a slow-burner with some epic sweeps and a bleak intro. It soon builds to another Cult-like headbanger. This is really well put together and I have to say I've had it on for a few plays now, over several days. Can't wait for an album to be honest, in the meantime, listen to it here.