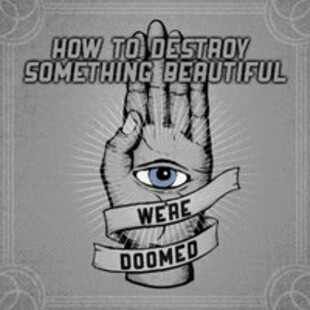 Landing in my inbox at the start of a few weeks of illness, the kind of fast paced, pop laden chaos that We're Doomed managed to squeeze into this 25-minute EP would have either had me out of bed in a fit of energy or simply made a sick man cry and bury his head under the duvet.
This is assuming I'd bothered to listen to it instead of watching reruns of Man v Food and necking codeine tablets like Skittles which is what actually happened.
Their list of influences in the 'For fans of' section of the promo material (a Godsend for the short of time reviewer) certainly look interesting and suitably diverse, ranging from Mastodon to Circa Survive. A better reference at times which the band omit from their bio is Biffy Clyro, possibly as at a few moments of these tracks the similarity is a little too close for comfort. It's early, experimental Biffy and it's confined to a few moments so it sidesteps too much criticism but it's definitely there.
Listening to the ever shifting and evolving songs delivered at a fair clip and the clean 90's American punk sounding vocals, Fall of Troy seems like a more apt benchmark overall, at least in terms of concept if not necessarily execution.
That said, it seems a little unfair to compare them to any one band given the sheer amount going on in their songs. There's a very well executed blend of heavy riffing, unashamedly rawk guitar work and poppy melodies, all in the same song and in a lot of cases all within the space of a minute. The prettier, quiet moments are uniformly excellent and a welcome break from the comparatively full on approach of the rest of the music, but there's not enough of them and they're over too soon. A little more restraint as shown in the opening of White and Blue or the closing minute of A Price to Pay and less of a rush to impress with the bands technical skill and they'd be all the better for it.
As with most music which goes through so many movements and crams so much into each song, How To Destroy Something Beautiful is likely going to take longer than I have to set aside for the reviews I have to fully sink in and unravel. Having said that, it's an energetic and entertaining listen, and while it's slightly over-reliant on the heavier, more challenging aspects the band show themselves to be capable of, it's a record I'll be revisiting over the weeks. If you like the bands referenced above, then you're going to enjoy this and I strongly recommend you give it a listen.