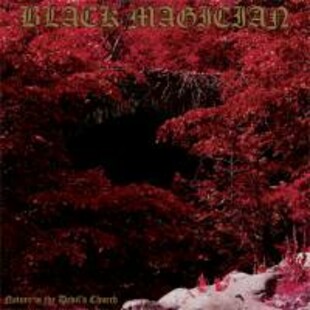 Many stigmas surround Liverpool. It's made to sound like one of the only places that you can get your head booted in for supporting the wrong football team, wearing the wrong sports gear, eating the wrong junk food but surprisingly not liking certain bands.
I say this mainly due to the fact that Liverpool spawned a band that turned the world upside down. The aftermath of this leaves Liverpool as king of the UK music scene, bringing out amazing bands as well as acceptance of any genre that comes from one side of the river Mersey.
Allow me to introduce Black Magician with their latest sacrifice, Nature is the Devils Church a release on Shaman Recordings, not only a label that refuses to put out re-hashed riff dog shit, but one that focuses on what is righteous within the Sabbath-worship sector.
The album opens with a strange and yet ethereal piano intro which is brief and made me wonder what Black Magician and Weedeater know about putting a small piano piece in a recording and why it appeals to them as it doesn't fit with the rest of the albums doom-drenched atmosphere. I guess when it's named The Foolish Fire; it doesn't need to explain itself to anyone.
Following on from the confusing opener, the sound lands on the eardrums like a dead bull. Its overall pace and power is akin to that of the sound that would have been heard by that senator (Bud Dwyer - Ed) that shot himself in the head at a press conference.
Bang.
The track drudges its way through and alters itself into a slightly higher gear tempo-wise with the un-mistakable Gibson SG solo smashing its way through the mix. Hammond and SG battle it out towards the end with enough roaring from the vocals to make most gravestones crumble.
Four Thieves Vinegar begins next with a well placed sample of flies, crows and general graveyard atmospherics. The riff thunders through with the Hammond organ ambling next to it like a shit, drunk friend on a night out, wonderful. The main selling point in this type of doom-fused prog is that the overall sound is very early Cathedral and if you were there first time round, you'll absolutely love this. It's like they are picking up the bloody entrails left by Dorian and Co. Before they decided to try and be a Yes/Sabbath tribute band.
Each track on this record clocks up an impressive time on each to allow you to think about every bible to burn and 70's porn film to watch, then comes Ghost Worship! This alters the perceptions you may have had having listened to the previous tracks.
It's a similar intro to the previous track but omits the flies and nastiness and replaces them with birds and nice sounds that you wouldn't expect at all. Acoustic guitars jangle around like a greyhounds balls and the organ is slightly more restrained and gives the overall listener a break from the doom laden assault that is endured throughout. The track also goes to show how much sheer musicianship is involved in this band.
Chattox comes in next like Nosferatu leaning in over a young virgin it's utterly terrifying to hear the monolithic sound from a real organ, like being stood in a church with pipes that scream to red hell fire. This is the time for the guitar to sear in like a helicopter crash. It may seem over the top for some but it only adds to the complete obliteration of the rest of the track.
If you were there in the first place and have the denim cut-off jacket emblazoned with patches, joint burns on your fingers and the remaining hair on your head has thinned but you follow the doom pathway to the grave then this is a worthy addition to your collection, they are Black Magician, they have patches, they have vinyl and they are your new favourite band.