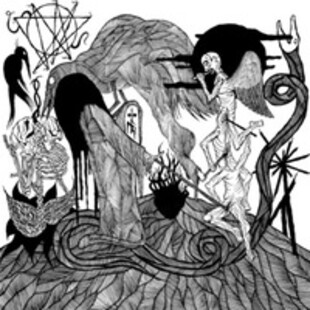 After the ominous, threatening growl of their debut Hatred For Mankind, Liverpudlian miserablists Dragged Into Sunlight announced the coming of the apocalypse with terrifying, doom-laden aplomb. Naturally, this led to a mood of anticipation for a follow-up, which comes now, in the final year of the Mayan calendar, in the form of Widowmaker, a three-part, one-song behemoth of a record, which alas, doesn't quite live up to its predecessor.
While the record isn't a total let down, it does mark something of a departure, moving away from the band's previous full-on low-end devastation into more ponderous territory. A single jangling, clean (gasp!) guitar leads you into things, gently building over a whopping 14-minute 'intro', decorated with interesting counter-melodies and even a violin, which lends proceedings a maudlin, Eastern vibe. Despite the unexpected lightness of touch, this actually, at least for this reviewer, marks the high point of the record; it isn't until the second 'movement' kicks in with the first heavy riff that things take a turn for the mediocre.
With a twisting mix of billowing minor and major riffs, this is presumably meant to hit you like a sledgehammer after the lengthy introduction, but unfortunately doesn't quite manage it, losing the necessary punch to a muddle of drums and dare I say it, silly riffage, which is probably meant to sound 'progressive' but comes out sounding aimless and meandering. The black-metal vocals remain, somewhat over-distorted for my taste, as do the ubiquitous speech samples, but they just don't quite fit as seamlessly as before.
The final third of the record mixes the first two modes together, opting for a slowly pace of riffing and more of the bass-heavy sludge we'd come to expect from the first album, building again to a perversely anti-climactic climax.
Don't get me wrong, Widowmaker isn't a bad record by any means and it will doubtless appeal to a good healthy portion of Ninehertz readers - boasting as it does guitar contributions by a member of Bossk and a general, all-pervasive sub-Pelican/Neurosis vibe - and there's plenty here to amuse and intrique, but as a record by a band with such a gargantuan reputation for filthy, down-trodden heaviness as Dragged Into Sunlight it comes up rather short.