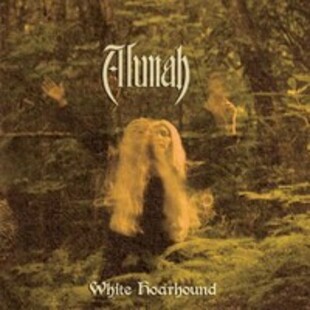 Let me proclaim a shameful personal truth, I've never been all that taken with Alunah, but White Hoarhound could well be the record that changes all that.
Having seen them live before and heard previous album Call of Avernus I'd possibly written them off as another metallic doom band (as I still maintain there are far too many Sabbath also-rans about). What has impressed me with White Hoarhound is an instilled sense of autumnal misery that envelopes the slow to medium pace they have adopted and the lyrics of singer and guitarist Soph Day.
The whole album has an undeniable Sabbath influence and brings to mind the 90s doom and roll stylings of Khang, who used to combine great lyrics with a both downtrodden but uplifting sound, as Alunah are doing here.
Although I'm not getting the vibe that this is a concept album, there is certainly a theme running through the songs. Fantasy and whimsical stories are told, all with a notion of dread or sadness and Soph's vocals seem to be a real standout on here, something which I'd not previously noticed before. There's some effects on them at times, which actually serves to lift them, rather than mask her talents, no autotune for these guys, more cosmic space phasing.
The closing pair of songs, Oak Ritual one and two are almost mirrored, the first plots an acoustic course, with some Planet Caravan style meandering and self-introspection taking over. The theme bursts into life in part two as the sound takes off, the central lyrics rising to the surface, sounding even more epic the second time round.
Elsewhere, the title track seems the most legendary and mythical in creating a story, not unlike a fireside ghost story or an introduction to an epic fantasy film, Soph's lyrics slowly reveal a narrative you can really immerse yourself in. More of this kind of thing please, here at ninehertz towers we hear enough about fast cars, women and booze to last us a lifetime. Cheers Alunah, your individuality has fought through here and you've made your highly-honed art stand out in ways we rarely see.