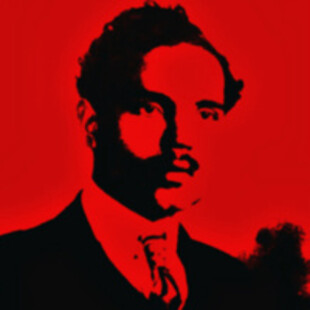 One-man 'experimental grind/black-metal'. All written and performed by Marvin Quinones. The entire release has only a run-time of 9:21, and I'm reviewing it hot off the heels of listening to Ehnahre all afternoon, which threatens to make anything I follow it up with sound fairly tame anyway.
I don't speak Spanish, but Google-Translate does. Welcome to something approximating If My Heart Rots by 'Blood and Soil'.
First track Si Mi Corazon Se Pudre starts with a flurry of black metal blasts; all very raw and lo-fi, before deviating into more groovy territory. The drum-machine percussion is suitably drill-like whilst the vocals delve into guttural acrobatics. This all then falls away to a non-percussive spacey instrumental fade-out that's rather long compared to the main section of the track, and would probably work better if it was a standalone track, and elongated to its full potential.
Track two Libertad is a more droney and atmospheric affair. The vocals croak away in the depths as buzzing and whistling sounds creep across the landscape. The sonic palette is pretty nice, but the song's a tad monotonous unfortunately.
Overall, pretty solid little release. Definitely lies on the black metal side of things moreso than grind. Has potential to create something bigger, as the main feeling of this release is that it feels like three little sections of three much larger pieces of music. Give it a spin here.