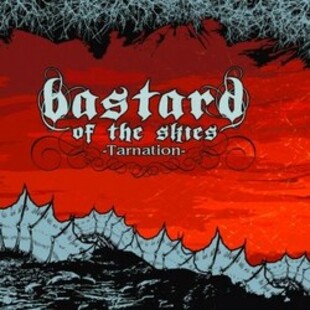 I've been trying to pin down the sound that Bastard of the Skies remind me of.
The closest I can get is Unsane, but then Unsane are of a much more paced bent. BotS occupy a mid-pace that out mid-paces most bands of the sludgey metallic genre by quite a way. On Tarnation's opener Drug Monarch they roll on as if a juggernaut, riffs as weight, crushing the listener. 'Heavier than a concrete Brontasaurus' as Man's Ruin might have blurbed back in the day.
Their recent split LP with Catatomic proved they had the tunes and this follow-up and extension of sorts proves they have loads of ideas to back it up too. Chops like the ones displayed throughout the album, from the whispered sections of A Punch In The Fucking Lungs to the slow motion tar pit exhalations of (Roasted in the Depths of) Sloar show BotS are not simply a pounding metal beast, but one that stalks its prey before chomping down hard.
The title track actually threatens to enter drone territory at points, quiet rumbles and distant peaks of feedback roll with an almost breath-like presence that is haunting and could rival entire records we receive regularly that never move from this isolated, claustrophobic bent. It's a gap in the endless barrage of course, as the next track Repugnance proves. Roared vocals scratch across down-tuned axes that seem to being played by whacking them against amps, such is the chuggability going on here.
Album closer What Are You Looking At Dicknose? (full marks for this title by the way) is an epic, multi-vocalist sludge and doom workout that descends into a rotating dervish of riffola, screams and feedback which I can imagine closing their set in real life, slowing down to painful levels and shaking pub windows while they are at it. It should probably be listened to when you are at that swaying, rocking stage of drunkness, a bottle of ale raised high to show your appreciation.