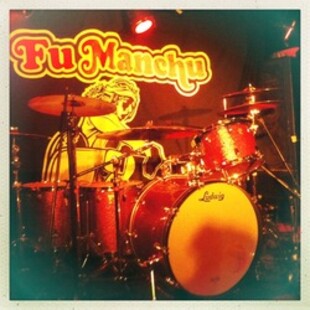 How many of you out there reading this played Tony Hawks Pro Skater 2? Yep, as I thought, many hours of your youth was spent sat in front of PS2 watching as you instruct a little man to perform death defying stunts.
I did this too, I also remember hearing Evil Eye for the first time on this time-sucker and remember thinking 'what is this badass tune?' after scouring the credits to find out who it was, the names Fu Manchu and The Action Is Go appeared and off I went to HMV to enquire about them 'importing' it for me, remember that? HMV importing CD's that no one had? Wow.
Fu Manchu started out life as a hardcore band in Southern California named Virulence and following line up changes and music styles eventually became Fu Manchu who began to play heavier, slower and fatter riffs.
Their first release came in 1994 on Bong Load Custom records entitled No One Rides For Free which is a masterclass in how to play fat riffs and basically make a badass album. Due to Fu Manchu's longevity in their genre, they have changed members over the years yet still stuck to the same killer formula in their time.
The line up as it stands today is Scott Hill (from day one) Bob Balch (action is go, onwards) Scott Reeder, not the Kyuss dude, another stoner rock musician from California, purely coincidental and Brad Davis who arrived in 1995 following the release of Daredevil and toured the album with Fu Manchu supporting Monster Magnet.
The Action Is Go is held in high regard by any fans of Fu Manchu and to this day sounds as fresh as it did back in '97. The artwork, the cover, the riffs, the flow of the whole album, it genuinely has it all and gives all of us something to thank the 1990's for besides The Spice Girls...
Anyway, I have nailed that album for many years since and can safely say that I don't think it will ever get boring. I may sound controversial here but The Action Is Go is clearly Fu Manchu's greatest work, perhaps the inclusion of new band additions, Brant Bjork and Bob Balch on the original recording had something to do with it?
I digress, fast forward to 2012, having browsed Instagram photos whilst sat at home, I spotted a poster depicting tour dates for the UK in 2012 to celebrate the albums 15 year anniversary. I was sold and under no circumstances could I possibly miss this.
After fucking about in order to establish where in the hell we were in Manchester, me and the best man managed to find the venue in just enough time to miss the first band, who kindly gave me a copy of their latest album in order for a review...
We got into the venue and popped open a can of Red Stripe each and began to drain them whilst perusing merchandise whilst the band started up. The Action Is Go was originally released in 1997 and featured a classic photo of skateboarding legend, Tony Alva shredding the 'Dogbowl'.
After emptying my wallet and acquiring one of 100 copies of the red and blue vinyl copies of the album and a T-shirt with the cover art, the bass came bellowing across the venue. We waited for the initial scream of the first wah wah part of Evil Eye to blast in which came almost instantly following a concrete wave of feedback.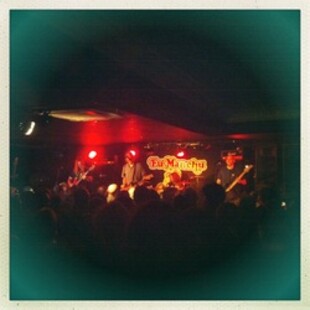 The band followed the track listing of the album throughout so Urethane followed next, the atmosphere was so potent following the first track and the audience were flawed by the sheer volume at which their favourite riffs were catapulted at them from a pair of Marshall stacks and a large Ludwig drum kit, a la John Bonham.
Fu Manchu are literally a force for all Stoner Rock enthusiasts, this album in its entirety played in front of you is a special occasion for anyone, especially on a Friday.
One flaw that came into play during a monolithic assault of Unknown World was some sound problems with the bass amp which were swiftly rectified by the soundman, this seemed to shock the band a touch and the following Laserbl'ast suffered from a touch of tempo change and was quite a bit faster than I would it should have been.
One of my 2012 high lights has to have been when they played Grendel Snowman, a song which has absolutely everything I could want in a song, lyrics about space and spaceships, wrecking ball style drum swings, fuzzy bass that makes your earholes warm and guitar lines that are cooler than Walt Disney's ballbag. This song, played live is one of the greatest things I have ever witnessed.
Regardless, the rest of the show went on and we even got two non-album encores, Mongoose and King of the Road. The Manchu left and fans scrabbled wildly at the walls in order to get the poster that advertised the gig, I should have been quicker for one as I failed to tear one down.
If you weren't there in Manchester and you are UK based, by the time you read this you either caught them in London, Leeds or Birmingham or you missed out, big time. Get over to Europe if you know what's good for you.