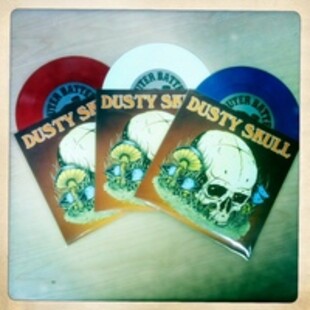 Dusty Skull is as close to a modern supergroup as you're likely to get, with members of 27, Annihilation Time, Witch and Earthless.
What we have on offer here is a limited debut 7" with just two tracks that gives you almost a teaser to what this band are capable of. Stoner rock via blues and a knowing nod to Thin Lizzy, it's a breath of fresh air.
With dueling guitars evident on both tracks the Lizzy influence is there in waves and the vocals are definitely taking a southern rock slant too. What this sounds like essentially is a warm, good-time jam session between a bunch of genuine music fans. Rather than simply self-aggrandising and indulgent, this will strike a chord with fans of any of the bands' collective members' fans, simply in it's genuine and fun nature. If this band are set to tour, then every show they put on will no doubt be a hands in the air, party-style rock and roll show.
Intriguing and exciting, we at Ninehertz cannot wait to hear more, where's the album? This is out now on Outer Battery Records, go and grab it now, it's limited to 500 copies.