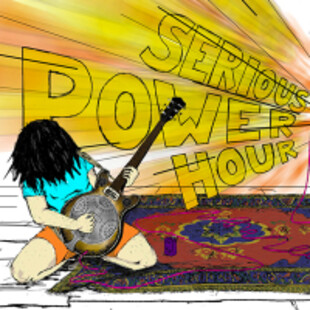 There's a physicist-bothering amount of multiplication going on here, correcting for variables, this 'power hour' clocks in at just twenty minutes.
Having said that, the POWER on display could well mean you feel like an hour has passed. What's the point in all this hubris? Well it's hard to start a review of something so immediately overbearing and intense.
As I said on their last release's review, WMNU are a band that operate on some sort of industrial bent, but with no Terminator 2 references or goth'd up electronica to hold them back, rather imagine a few guys clocking off a shift at the panel-beating plant and plugging in amps while the next shift starts. I've been shouted at recently for not spotting the Stooges worship, but frankly, I feel the band have their own sound, wrapped in a layer so densely acidic and wooly, not even Iggy would be able to come out the other side unscathed. The closest band I can compare them to is the slow-motion version of themselves, Sightings. The relentless barrage of pounding, ritualistic drumming on some tracks could bring post punk references to the fore too, but as should be abundantly clear, WMNU is a unique and somewhat incomparable beast.
Vocals seem to be shared on this release and there's some more clarity on display too, though you'll have to listen hard. The drummer also seems to have learned how to blast, either that or he's processing some of his stuff through reverb or delay pedals, the noises that come spiraling out of the speakers at times are disconcerting and sometimes threatens to descend into a dirge, which is no bad thing.
The start of the excellent Wild 5 is even reminiscent of Sabbath, it's tone and riff sound like it could be lifted from Master of Reality at times, except a copy of MOR that's been buried for a bit, and spat on.
The tape comes with a download code, so those without the benefit of analogue noise equipment can blast it digitally, but the tape is worth having for it's simple messages of PLAY LOUD and PLAY LOUDER printed on either side of its shitty orange. Totally buy it now from the doubledotdash label.