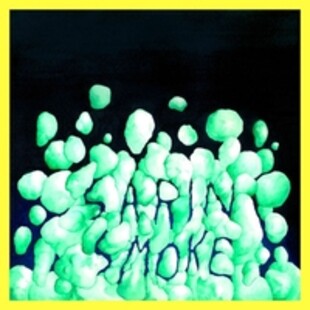 A former Yellow Swans chap and a current Charlambides chap have teamed up recently to create an almighty noise together.
Both acts were known for their improvised music and Sarin Smoke is no different. Apparently Charlambides fella Tom Carter managed to catch pneumonia while on a recent tour, so this album will provide funds to help him when he gets back from tour to the US, which is all the more reason to seek this out.
What we have here is a sighing, floating release that begins with a pair of dueling guitar drones that seem to overlap only in spaces now and again. What else is going on is the kind of mind-bending tactics that Sunn0)) wish they could achieve and has more in common with an Indian raga than the overblown amp antics that seems so common these days elsewhere.
The release goes on to become less face-melting as it progresses, there's calmly plucked notes here that collide off one another like raindrops off a corrugated iron roof and carefully-layered, gossamer-thin guitar feedback that soothes rather than grates at other points.
Other songs have a ringing, staccato sheen to them, ever-flowing like digital sick. This kind of excursion simply leads to uncomfortable listening, but I guess the variation means you aren't dropping off to overly blissed out sounds.
This kind of thing would be overbearing live and would force you to seriously question your tolerance for volume, but could lead to some next-level, semi-religious experience type shit, so this is one to stick headphones on for and lose yourself.