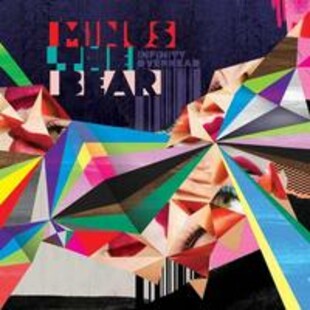 "Less tech and less pop" seems to have been the aim with each subsequent Minus the Bear album, and their 5th full length, Infinity Overhead carries this decade long tradition on.
It must be a band motto or something. Not that it's a bad thing per se; if they were still peddling entire albums of silly song titles, wall to wall two-hand guitar tapping and lyrics of coastal wine-and-sexy-time adventures I'd have plenty of negative things to say. It is however a little worrying when on first listen, the album seems to lack any of the bands instantly catchy songs; the huge tunes you'd be humming on the bus and using as a reference point to navigate your way around the record, bringing you back in so the rest of the album could seep it's way into your brain at it's own pace. 'Knights', 'Drilling', 'Spritz!!!Spritz!!!'..... The list goes on.
Lead single Lonely Gun may be led by poppy blasts of filtered guitars and keyboards over a disco beat (and featuring some amazing/appealing 80's soft jazz sax work over the outro,) but it's tucked away as the second to last track, and isn't really a good indication of the album as a whole in any case. A few more listens however and it opens up to reveal it's secrets. Opener Steel and Blood seems familiar enough on second spin and there are still plenty of hooks there, you just have to work a little harder for them. While their big singles (or pretty much anything on Highly Refined Pirates) are pure pop with more than a slight wink to the musos in the crowd, the material here is more laid back. The bits that catch your ear and that you'll recall on subsequent listens are shorter and generally instrumental rather this time round.
The most obvious rock song is album closer Cold Company with it's choppy riffing and power metal overtones (check out the guitar work at the 35-second mark and over the first post-chorus) ends the album, and along with Steel and Blood bookend the album with it's heaviest tracks. Heaven is a Ghost Town is a hypnotic reverie over sweep filtered drums and abstract Dave Knudson guitar manipulation and fairly typical of the relaxed vibe of the album as a whole. In terms of sonics, the return of Matt Bayles is good news. While he takes more of a backseat role than on previous records he still gets to shine with the occasional lead synth line and under-the-surface noises and textures that give the listener a reason to really pay attention to the songs, adding a lot to the traditional 4 piece band setup.
The closest reference point for Infinity Overhead for fans is Planet of Ice (which it's on a par with) and it's a relieving return to form after 2010's disappointingly hit and miss Omni. Maybe it's that records shadow that means the band appear to be playing it safe, as it lacks the experimental feel of the last two records, but by any reckoning it's a solid collection of ten tracks. If you've had your fill of the steadily maturing 'Bear over the years then this is unlikely to make you fall in love with them all over again. For long time fans, it's a thoroughly satisfying listen, with plenty of rewards to uncover for the repeat listener and a worthy addition to their catalogue.
I was hoping to get the scoop on this album (at least for the law abiding 9hz reader) but annoyingly, the whole thing went up for streaming on the bands official site the day before I submitted. Grr. Listen to it here. I recommend the tracks mentioned in the review and Toska.