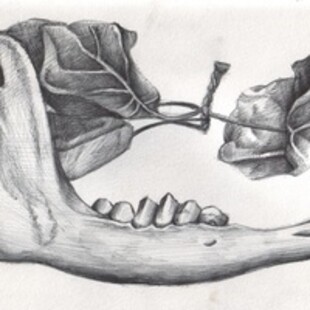 Almost as soon as I pressed play on this album, I thought "hey, this sounds like something that Blackest Rainbow or Singing Knives would normally release!".
Then I bothered reading the text on the Bandcamp page, and realised that BR have already released material by S&R. If you're already familiar with the releases/gigs of those two labels, then you probably know already if you'll like it or not.
Fortunately for me and the bands, I have much fondness for this kind of stuff, and have spent half of my life at those labels' lovely gigs. If you're not familiar with these names, then this is the noisy end of electronic free-improvisation that has less in common with the Derek Bailey / Anthony Braxton varient of jazzy free-improv, and more akin to musique concrete, acousmatics, EAI, and famous names such as Yoshihide Otomo and AMM. Dissonant bizarre playfulness.
cM nG's effort is a live recording whose fidelity is perhaps too low to convey the full force of the music. Lots of squeaking and percussion, but much of it sounds too distant to have much of an effect on the listener. I imagine the original audience found this a lot more powerful, and it's certainly not a bad piece. Between the two of them, they manage to balance a good deal of abrasive high pitched tinkling waves of sparse whines with shuddering clanking heaves of sound. Escalator as Eschatology is a great title for the piece.
Spoils and Relics' track is, at least to my ears, by far the strongest of the two. The recording quality is much better, and thus the full force of the sound is able to come through. Lovely manipulations that flow well. There's a lot going on here, and even when things are sparse there's a lot to take in. Thuds and clatters and electronic babbling and clear sustained high pitches convey a sense of menace and uncertainty as muffled ethereal vocals struggle to cross the border into this dimension. A beautiful tense symphony of 90s dial-up internet sounds. Much control and variation to be found here, and they're now a group I'm very interested in trying to catch live some day.
Check it out here - Spoils and Relics are thoroughly recommended, but whilst you're there - don't be rude - check out cM nG's offering too.