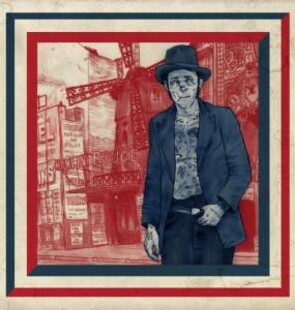 Hangman's Chair, a band that have been burning along since 2005 with a unique blend of barbaric riffs, atmospheric sound interludes and phenomenal vocal work. Their 2012 offering Hope//Dope//Rope brings in a running theme of drug addiction and talk of dying, ideal stuff for Stoner Doom metal.
The first track is named the Saddest Call which, is pretty much everything the Stoner Doom fans would love to inhale. There's easy going vocals, enormous riffs, relentless drums smashing through at every moment.
Following on the second track swings in with mountainous force, battering the listener but then easing off for the vocals to come in and make everything just that little bit better.
The overall sound of the release has a Neurosis-feel to it, influences are aplenty on this album however, with the Pelican-Sabbath that seems to filter through on track three called Ain't Living Long Like That.
In the same way that Sweden comes up with some awesome sounding bands, France have had this one since 2005, just going to prove that it's not just USA and UK capable of producing good Stoner Doom.
Artwork wise the release has some very well drawn images of a tattooed dude outside the Moulin Rouge, the colour way used for the front bears its French flag too, there's no mistaking where this came from. The overall packaging looks quite delightful also, if you manage to find this actual release in a shop, it looks like the aesthetics will please most and fit nicely with the music.
Chilled tracks are always helpful in these types of albums, Hangman's Chair have come up with the goods in a track named December, fusing together Planet Caravan and a Spaghetti-Western beat in a minor key. Vocals are again, faultless and badass.
Faithful feedback intro next into a storming riff that doubles up into a harmony that you could easily slay a dragon to, majestic lyrics follow in as you expect.
The awesome thing about this guy's voice is that he hasn't forced a French accent into his singing. Not that it's bad to do that but, it can overshadow the overall feel of the genre.
This track, A Scar To Remember fuses more of the same stuff, not a strong point but still, expertly put together, clocking in at over 8 minutes, don't make any plans before putting this album on.
Drums open the next track, called Alley's End with a sparse beat that brings in a guitar playing similar stuff to the tracks previously. Harmonic vocal lines drift in following the drums, this track isn't a strong point with the imbalance of major and minor key changes.
Closing this album, the band have opted for the ever popular 'sample-intro' it's a highly unoptimistic chap raving on about the human race and that mother nature not needing any more children. Heavy, I personally struggle to pay attention to preachers but I feigned interest throughout.
Riffs arrive again to send the album out, plenty of time to enjoy this one too, repetition carries the song directly into a break where you can hear how the band have made a conscious effort to ensure that the production is part of the whole sound. There is nothing worse than badly produced shite.
Dual guitar lines fade in later in the track which, have catchy, yet wrecking-ball riffs inside each one. There's perfect stuff to round up the album here, killer tones from all the guitars and bass with perfectly timed beats to match.
Named after the album's title, Hope/Dope/Rope is the perfect ending to the album, it may not be everyone's cup of tea due to its somewhat 'clean' over all sound but anyone with a brain would realise that Hangman's Chair are group with serious musicianship.