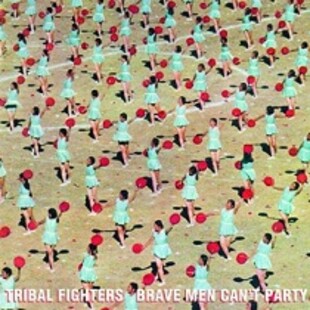 With it's mellow, summery sound and clean tone tapped guitars, Tribal Fighters' sound is initially reminiscent of Minus the Bear, although without vocals. As the EP progresses, it becomes clear that it's also sadly lacking is much in the way of grunt or sonic diversity, leaving this release sounding like an elevator music version of the same. Minus the Stairs if you will.
Sorry.
Anyway, the EP is made up of 5 tracks and 3 remixes and the proper tracks are all very similar in tone and structure. A couple of chord changes at a time spelled out in a cascade of notes, the occasional timing shake up, maybe a bit of delay, repeat and done. It's easy to listen to but apart from a couple of moments there's just nothing that stands out.
Ultimately, it comes across like a series of intermediate 2 hand tapping exercises for guitar that someone has put drums and bass over the top of and called it a record. As background music for relaxing with a coffee with the sun shining through the windows (as I am now) it works great but I can't recommend it beyond that. Oddly enough, the remixes add synth and loop elements that flesh out the bands minimalist sound and actually improve it, albeit switching them to a whole other musical genre. With the addition of a full time band member adding electronics and a little more diversity in their songwriting, Tribal Fighters could be a band to watch but what they're doing now isn't working for me.