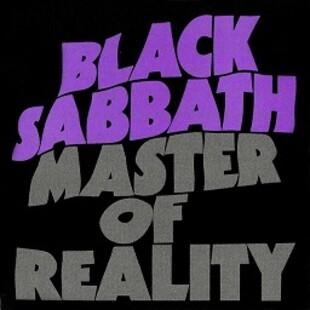 Wipe the freshly spat beverage of your choice from your computer screen and believe it; Apart from 'Vol 4' I have never heard a Sabbath album all the way through. I have nothing against them, but after getting into Zeppelin and Hendrix during a brief retro phase, I figured that was as good as classic hard rock was going to get. And while the first 4 Sabbath albums are thought highly of, the quality arguably tails off rapidly after that. Led Zeppelin didn't make an album that wasn't a start to finish classic until 'Presence', their 7th, and even this managed to kick off with 'Achilles Last Stand', a song which to this day makes me want to ride a galloping horse to work in full plate armour throwing burning torches through peoples windows on the way.
And as I can mentally picture you sat at your keybaords getting ready to flame me into oblivion if I bad mouth what's regarded as the original stoner album, let me spoil it for you nice and early on; I like it. A lot. Up yours.
I'm a fan of CD's and digital music for their capacity and convenience, but I occasinally feel that the extra space and ease of releasing music has invited a wave of laziness into modern music. In this respect, it's refreshing to go back to an album that's been designed to go onto vinyl. A curt 22 minutes per side discouraged unfocussed noodling (although no-one thought to inform Yes of this) and with bands forced to make sure each side was strong enough to stand alone, albums like 'Master of Reality' are a testament to the sense in this approach.
A mere 8 tracks long, (6 if you discount the 2 interlude tracks, 'Embryo' and 'Orchid' which total just under 2 minutes), even as stuffed full of riffs frequently copied in subsequent years as it is, the albums brevity and breathing spaces stop it becoming tiresome. Take note every stoner band since; Sabbath drew the blueprint for a genre in 34 and a half minutes. Your well meaning tribute that does nothing to advance said genre does not need to be an hour long.
And while 'Sweet Leaf' and 'Children of the Grave' are the albums best known tracks, it's 'Into the Void' that cements the albums reputation for me. A favourite since I picked up a 12" promo copy of Soundgardens 'Jesus Christ Pose' many (many) years ago with a cover of it on the b-side, it's as good an album closer as I could pick from what's on offer and an excellent barometer for the album as a whole. An oddity amongst the fuzz is penultimate track 'Solitude', a melancholic and shockingly relaxing tune which shows that, previously unbeknownst to me, Ozzy can actually carry a melody and Tony Iommi can play the flute. Who knew.
While the ominous riffs and original distortion soaked sound is there, Iommi's guitar tone initially seems to lack weight. I suspect this is due in equal parts to the limitations of 70's production and the light gauge strings he used being detuned to a then unheard of C# standard. And all the drugs. Oddly, this seems to improve over the albums 2nd half and the sound acquires some heft from somewhere. But even with the advances in modern equipment and recording technology since 1971, it's remarkable how many records since appear to be trying to ape the bands sound in terms of tone and feel. Fire up 'Sweet Leaf' and you could easily be hearing the guitars of Fu Manchu or any number of modern bands, and the ever changing rota of Kyuss bassists have clearly had Geezer Butler's tone at the front of their mind when dialling in their sounds. The bands legacy truly cannot be understated and it's impressive that after 41 years, I'd rather listen to the originals than most of the imitators they inspired. Colour me very pleasantly suprised, I appear to be a Black Sabbath fan.